We are learning that the hardest part of this whole process is the watching and waiting. One moment it looks like progress is being quickly made. But the next it seems we need to wait longer.
John was excited to come down to Children's again today after so many positives on Tuesday. A bit of nerves is always involved on our trip down. My cousin encouraged us with her life verse and so I read that while we approached the hospital. Isaiah 26:3-4.
You keep him in perfect peace
whose mind is stayed on you,
because he trusts in you.
Trust in the Lord forever,
for the Lord God is an everlasting rock.
John really wanted to see his little girl open her eyes again. Especially since she was looking around for an hour on Tuesday. Unfortunately, today we only saw them open for a minute. John said it was okay, he was just happy that I got to have that experience.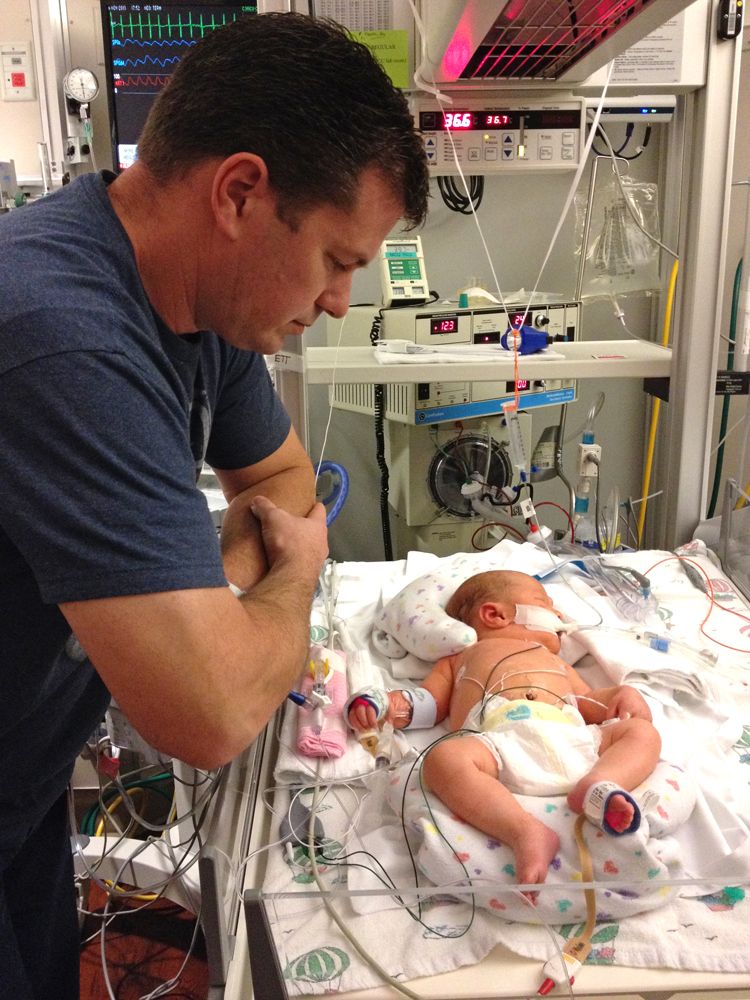 The morning always is a time of watching. Grace has been reduced on the amount of sedatives but she still enjoys sleeping and they are trying to get her woken up a bit more to be able to handle a different ventilator. The doctors were able to decrease the amount of nitrous oxide from 10 to 4 today and she tolerated it well. They also kept lowering the pressure on the oscillator for her ventilator and she tolerated that. All good. And all signs that she can be moved to another ventilator yet today.
Grace seems to prefer her right side as when they flipped her her oxygen went up and stayed consistently at 99. They move her from side to side or to her back to help with swelling. The side she lays on will puff up and looks quite funny when she does get moved.
Our bit of excitement -- I was able to swab out her mouth with some of the milk I've been pumping for her and she licked her lips afterwards. We saw her have hiccups and blow bubbles. It's the little things.
I spend some of my time in the relaxing rooms pumping milk for Miss Gracie.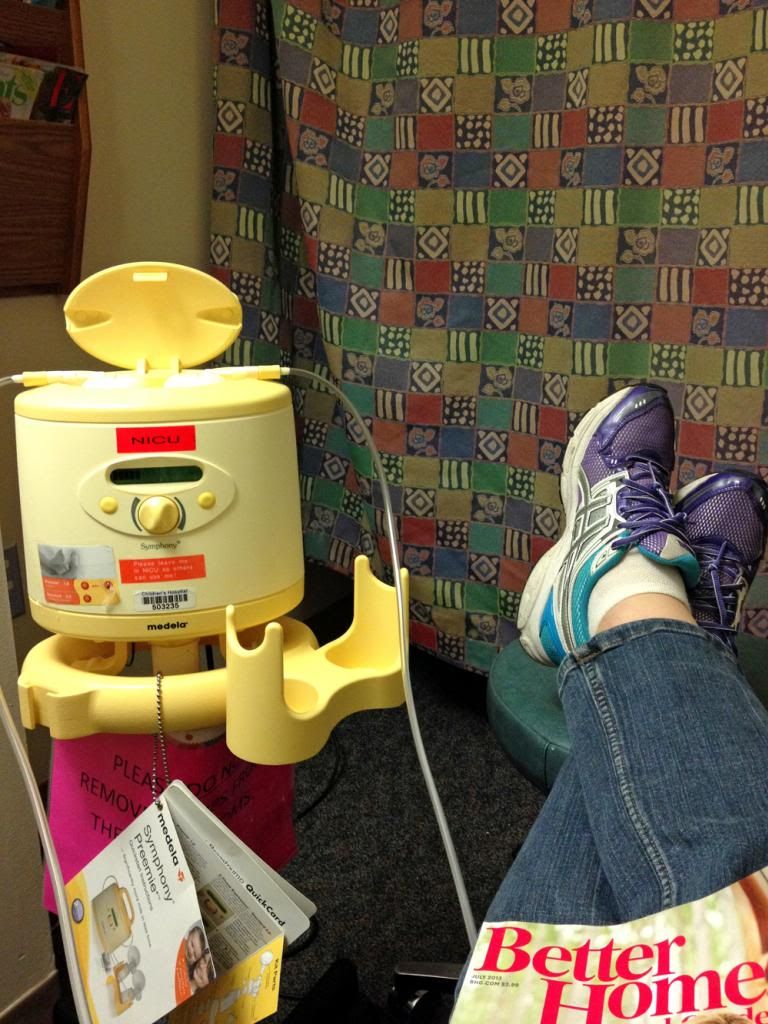 In a previous update I saw they decided against a picc line but I must have misunderstood what they were saying. I must say, my mind is quite a blur lately. Thankfully John is usually there to explain everything. They did decide that Grace needed a
picc line
so that she could receive nutrients but more than that the lines that are in her belly can only be there for 7 days or infection can set in and so they wanted one central line for everything. It was later in the day when they started looking for a good vein and our little girl wasn't too happy about that and was kicking and moving her arms around. So for the procedure they did have to sedate her more. It was supposed to take only an hour but it was another waiting. John and I started to worry a little bit when it had been almost two hours without word. Thankfully the nurse came out and got us at that moment.
The picc line was put in her right arm and the first time they got it in and took an x-ray it curled up and being that they wanted it as close to the heart as they could they did it again. We were able to see the x-ray and that is quite amazing to see the picc line and her ventilator tube going to her lungs and one tube to her stomach and various other lines. They will check the placement again a few times to make sure it doesn't go too close to the heart.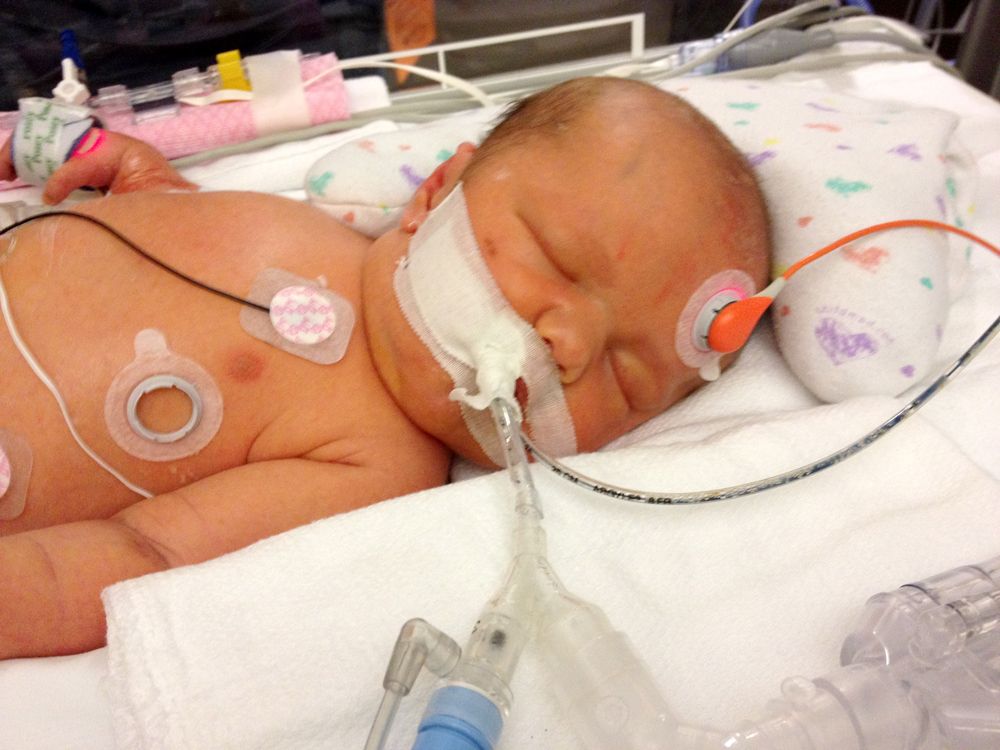 We had a late day waiting and while they were going to move her to the new ventilator we were too tired to wait any longer. I honestly have no idea what going to another ventilator really means but John does because he saw her on this one at St. Joseph's in her first day when she could not tolerate it. I guess I'll have to wait and find out.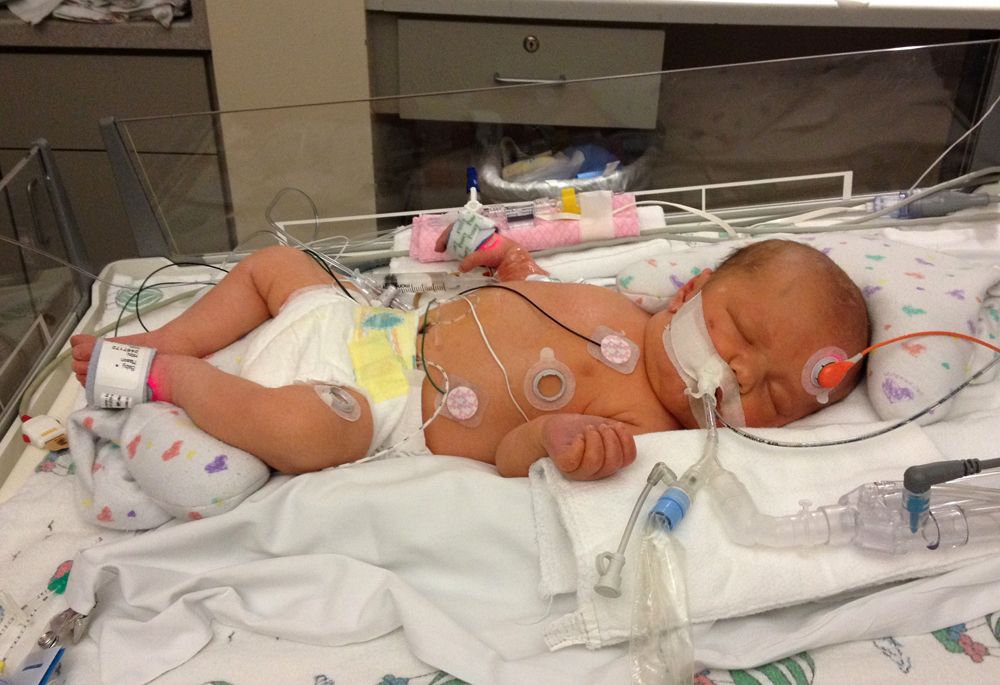 Specific Ways to Pray
:
- Grace would do well on the new ventilator and that we'd be able to hold her SOON!
- We have a few coughing kids that need to get better so they can meet their sister.
- The separation is getting hard on all of us and attitudes are really showing it. Some of the kids just want to stay home. And some just really "need my parents".
- My continued healing. As always I start taking things too fast since I feel okay but then I overdue it and can feel it!
- John as he balances keeping up with work from afar, going to Milw. every day and running our home. He is quite amazing anyway in my opinion but I think it is getting hard.