Up for review from
Beloved Books
was Sugar Creek Gang Audio Stories. Oh were my boys ever excited to hear this! We have heard the stories periodically on the radio (although not often as the station does not come in at home) and so we knew it would be good.

If you haven't heard of the
Sugar Creek Gang
it began as a series of wholesome Christian adventure books for boys and girls written by Paul Hutchens in 1939. The books are about a group of boys around the age of 10 that call themselves the "Sugar Creek Gang". They go on many adventures together and learn a lot of life lessons and about Christ along the way. Several years ago it became an Audio Adventure as it was dramatically read from the books.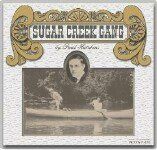 Audio Adventure
We listen to a lot of radio dramas while traveling back and forth to town. When we first began the Sugar Creek Gang I wasn't sure if the kids would like it. This series is dramatically read from the book and does not have any sound effects or any other voices other than the narrator changing the tone of his voice. But as we began to listen we were immediately caught up in the story as "Bill Collins", one of the gang tells stories from his youth. It reminds me of my Dad and his brothers sitting down and telling us stories of growing up and all the mischief they got into. This series is so well done and even without additional characters the narrator's voice changes and little pauses make is seem so real.
What I love about the Sugar Creek Gang is how well it teaches values and clearly presents the gospel in a matter-of-fact sort of way. Through the stories your children learn how to respect their parents, how to work hard, how to be a good friend, to not be ashamed to be a Christian, and so much more. But I found there are life lessons for adults to glean from as well.
We now listen to the Sugar Creek Gang whenever we are in the van and we all look forward to what will happen next in the lives of Bill, Poetry, Circus, Little Jim, and the rest of the gang. And while each story builds upon the next each story can stand alone.
We reviewed
Volume 1
which contains the following stories each about two hours long.
The Swamp Robber
The Killer Bear
The Winter Rescue
The Lost Campers
Chicago Adventure
The Secret Hideout
And if you want
additional information
about the Sugar Creek Gang you can see drawings from the books of what the boys might look like and see Sugar Creek in Indiana. And while there is now a video series my boys found they liked the audios so much better!
Enjoy the Sugar Creek Gang in Your home!
Beloved Books is a resource for life-affirming, wholesome literature and audio stories. There are 6 volumes of the Sugar Creek Gang Audio Adventure available from them
for $54.95 each.
I know my kids don't want the series to end and in a day when it is hard to find entertainment that promotes godly values it is well worth it! And it would make great gifts for birthdays or the Christmas season quickly approaching.
If you would like to hear a sample before purchasing an entire volume you can buy the complete first story of
"Swamp Robber" for only $4.95
and FREE First Class postage!
Beloved Books is offering a 20% discount off your order if you use the coupon code --
SUGARCREEKGANG-20

**Disclaimer: As a member of TOS Review Crew, I received a complimentary Sugar Creek Gang Audio Adventure Volume 1 to review. All thoughts and opinions expressed in this post are my own.