Today I would have been 39 weeks pregnant with a scheduled c-section for 8 a.m. How strange the turn of events to totally change that plan. So much for a calm and "relaxed" delivery. John and I were talking yesterday and it seems that I have almost totally missed the month of November. I remember shopping on the 31st of October getting ready for a birthday party for Missy and Seppy the next day. Little did I know what lay ahead and the month sped by while we watched and waited for our miracle baby to come home.
Our precious "GEM" has been home a week today and we are all adjusting well to having her home. The kids go on as if nothing is out of the ordinary. They are loving all of the meals so many generous people have brought for us. In fact they dread the day when I am cooking again, simply because that means it is back to sandwiches for lunch rather than all of the yummy leftovers. Zippy hasn't really struggled with a new baby most likely due in part to the fact that it means he has his parents home and a routine again. He still fights taking a nap and going to sleep at night but is screaming much less. And he loves "Bay (baby) Grace"
I am more worn out and sore and it feels like I am going in reverse with the healing process but then I suppose I am getting less sleep and carrying a baby around now rather than sitting around in a hospital.
John is back in the swing of things at work and went back to his basketball mornings and tae-kwon-do evenings with the kids. He was hobbling around here the past day or so being sore from lack of movement the past weeks.
Grace has long tiny fingers.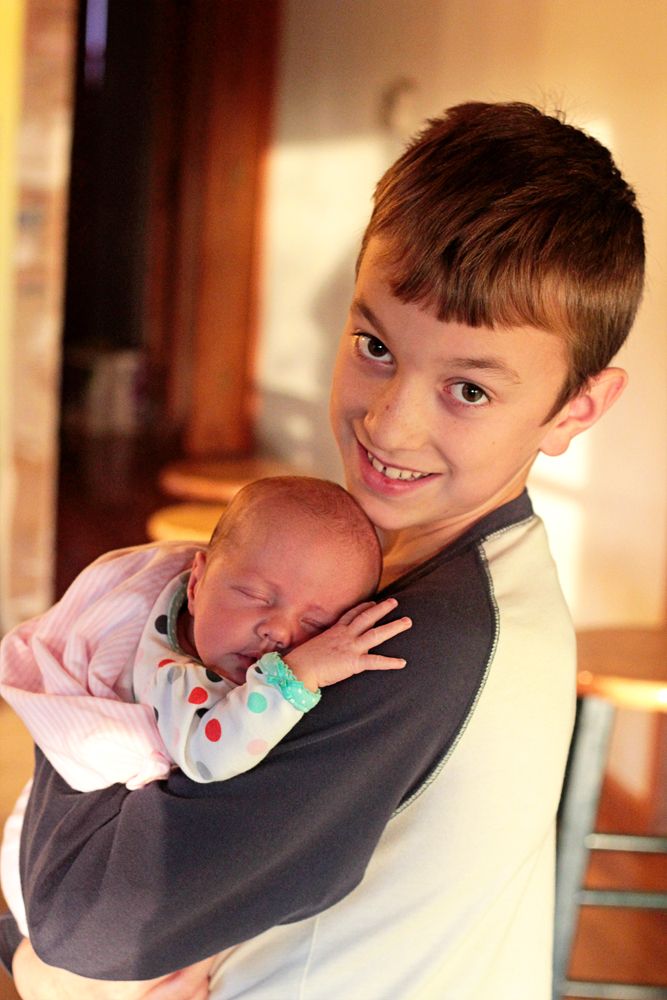 Gracie is never at a loss for arms to hold and cuddle her and so when put down she often wakes. She is eating good although I am having to wake her at times during the day to make sure she does otherwise I find her waking every two hours at night. But when she is ready to eat there is no mistaking it and she becomes very impatient and loud.
My Grandma was able to enjoy Grace. She couldn't believe someone so tiny could have all of those tubes and such attached to her. And she was even a big baby for the NICU.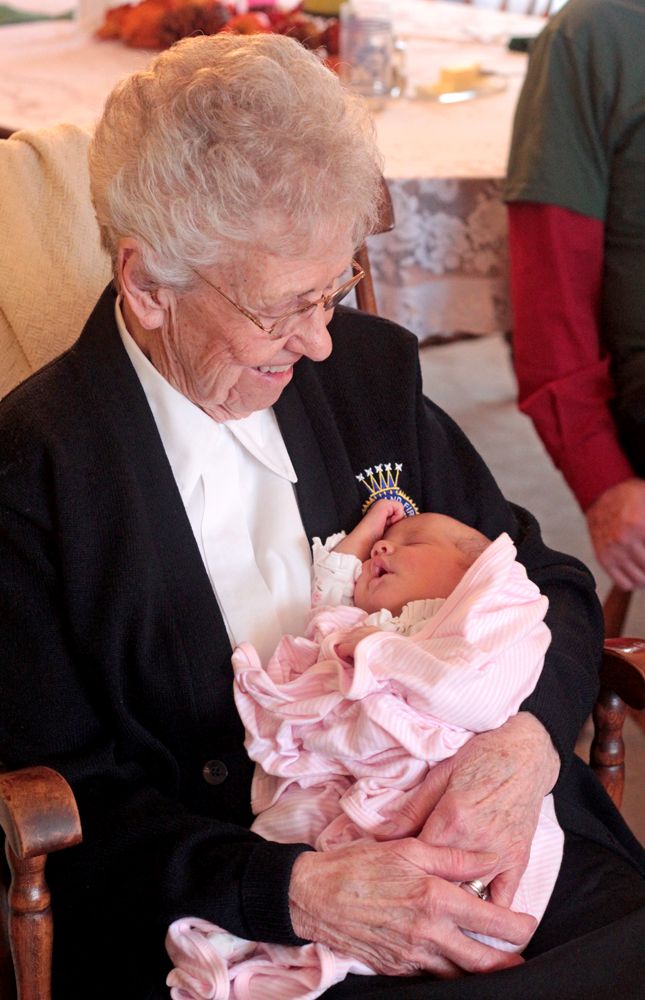 I took Grace to our family doctor for a follow-up visit after two days home. It was unlike any well-baby checks as I felt I didn't really know my baby. The nurse would ask questions and I had to say that I didn't know the answer and had only been told by others that yes, she followed noises with her eyes, etc. It hit me again that it was the nurses in the NICU who knew her and I had been on the outside looking in. But yet so thankful for those caring nurses who loved and cared for our girl.
I am so thankful that in no time at all I know my Gracie. She is such a gift and as I wake in the night with her I try to forget my weariness and thank the Lord who has given me the privilege of cradling a sweet babe in my arms each night. Oh the joy! Simply nothing else like it.
So Blessed!