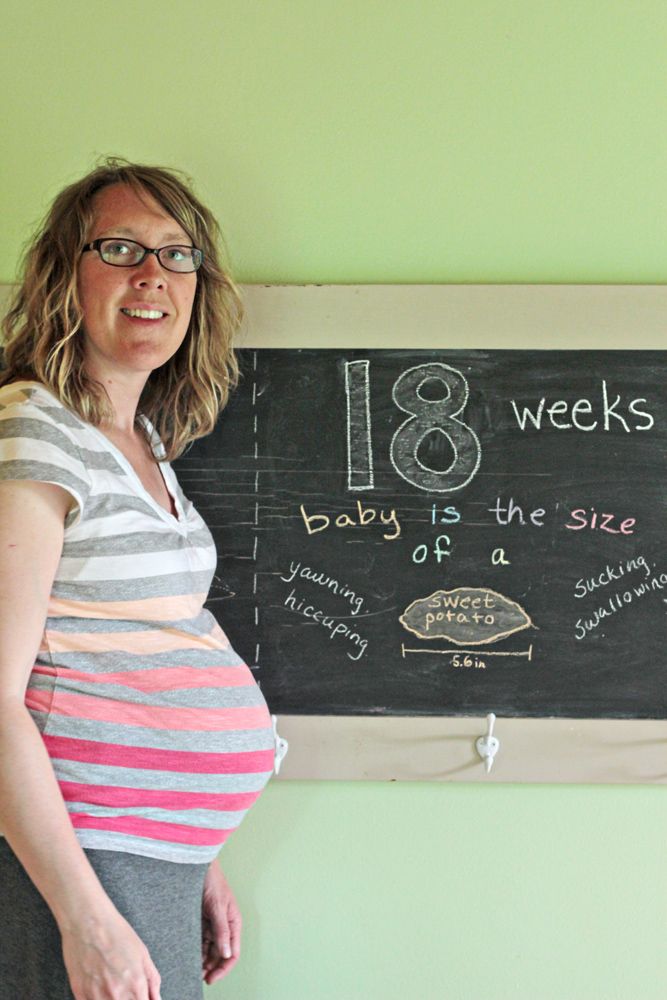 I realized that this is my third picture and in each one I have a striped shirt on. It is quite difficult to get a decent picture for some reason. I like the light shining on my face from the window I'm facing yet then I have glasses glare. And often whoever takes the picture can't seem to focus on my face. Ah...I'm too picky. Probably why no one is volunteering for the job. :)
Oh, and if you can't read the board it says our "sweet potato" baby is 5.6 inches and is yawning, hiccuping, sucking, and swallowing.
How far along?
18 weeks (had hoped to update every two weeks but so far it's working to be every 4)
Due Date:
December 3rd

Weight gain:
Okay, I finally stepped on a scale, actually right after my 14 week post. I gained 14 pounds during those 14 weeks (probably a bit more by now) and I can feel it! Amazing what just that amount of weight adds.

Maternity clothes?
I am living in my Old Navy fold-over jersey skirt now that the weather is cooperating otherwise maternity bottoms. Although, I found a belly band at a garage sale and I was able to wear my normal shorts using that. I love that! I'm still trying to wear normal shirts, just a size up but I'm noticing that they seem to wear out faster that way maybe from being stretched? I suppose I should just resort to maternity. They just seem a tad too loose yet. Probably because last time I wore them I was near the end of my pregnancy.

Symptoms:
Feeling good. The round ligament stretching is in full force. Not a fan. You just never know when it is going to come on. I am trying to rub magnesium oil on that area when it happens. I don't know if it is helping that but it definitely stops any charlie horses in my legs. I had my fingernails turn yellow/orange and have yet to figure that out. I did not load up on carrots nor did I eat any junk like Cheetos. I went to bed and Sunday morning woke to find my nails orange, all but my right pinky. Strange! I figured I must be deficient in something. But it wore off after a few days.

Movement: Slight movement from time to time. I really am too busy to ever notice.

Food cravings: No, but I do enjoy food.

Food aversions: Onions still are not my favorite at least to cut up and cook so using onion powder instead to get the flavor for now.

Have you started to show yet: For sure!

Belly Button in or out? It is on the verge of popping out. You can just barely see it if my shirt is tight.

Wedding Rings On or Off? On but once it starts to really warm up I will probably take them off. Kind of claustrophobic about my rings getting stuck on my fingers.

Medical Information: And...I went to the Doctor! Funny how much later I go with each pregnancy. With the first pregnancy you can't wait to go. By this point, it's old hat. What do I need a doctor for? :) I don't like all of the intervention and testing anyway and don't think it all necessary. I joked that maybe I should make my appointment for a few weeks before my due date. "Hi, I'm having a baby in a few weeks, can you do my c-section?" Ha! I'm sure they'd love that! I do love Dr. Smith though. She is so kind and gentle. And she loves the rest of my kids too. She was disappointed I didn't bring them all along. Ha! Not to that first appointment, thanks anyway. :)- But she requested I bring them next time.

Misc. Info: My biggest concern was when I would have this baby. I thought probably the day after Thanksgiving but that would be cutting it close on the chance I'd go into labor. She would like to do the c-section 7 days before my due date which means the Tuesday before Thanksgiving. Not ideal but not many options I guess. At least I know my family will be well taken care of that day!