This afternoon John and I both enjoyed taking turns holding Gracie. We were thrilled that her bilirubin had come down and we had her in our arms for about two hours until she decided to fill her diaper. That woke her up nicely with eyes wide open and she had a full-fledged cry, no longer hoarse from the tube. I wanted to get a short video clip on here that we took but you'll have to wait for that.
But now that she is breathing on her own and is no longer sedated she wants to eat. And does she ever go to town on her pacifier. The problem is, they don't want to give her food quite yet. She is getting nutrients through her picc line but that isn't filling her belly.
At this point her nasal cannula is giving her pressurized air with a little bit of oxygen. Normal air we breathe is 21% oxygen and while we held her she was getting 40%. Yesterday she started at 4.0% pressure and it was turned down to 3.0 today. John follows all of her numbers and just explains it to me. They want the pressure down to 2.0 before she gets any food. We don't fully understand this seeing as they will first put my milk through her feeding tube. Here she is smiling at Daddy. :)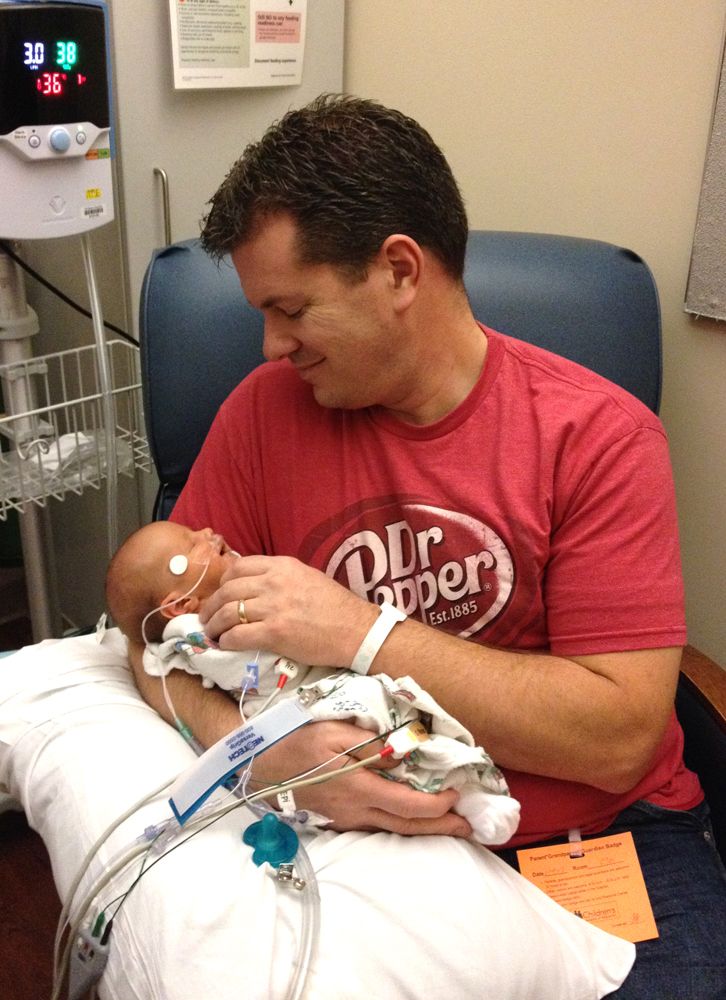 Once sweet Grace was awake it took awhile for us to calm her again. I held the pacifier and her fingers while John tucked her in and patted her. Today was the first day that she hasn't had one nurse to herself so before we left we wanted to make sure she was settled. John and I left the hospital feeling discouraged. It is hard to watch your baby knowing she is hungry and all that can be done to comfort is swaddling and a pacifier. And too, we heard a baby crying for a long period of time and I think we both wonder if that could be Grace tonight.
On the way down we were listening to the radio and a remake of the hymn "Praise to The Lord The Almighty" came on. One of the verses says,
"Ponder anew what the Almighty can do"
. And it made me reflect on this past week and ponder. Oh yes, The Lord has been doing amazing things in our little Grace and we entrust her to His care.
Please pray with us
that Grace would be able to adjust her breathing so her pressurized air level can come down and our hungry girl can take in food. And that we would be patient with this whole process.