I woke up this morning ready to be discharged from the hospital. I could have left sooner but I didn't want to rush things. John picked me up and we headed down to Milwaukee and my Dad also tagged along to help out being that they wanted to take me around in a wheel chair which was a welcome relief.
I was very excited to truly meet Grace but nervous too. I had tried to prepare myself to see her with tubes and such through pictures but yet when I arrived they had her setup for an EEG with electrodes covering her head. That kind of threw me and it was really hard to see my baby that way. My tears didn't last long though as I was able to study every tiny feature of her and see what a perfect little beauty she is. She has long fingers and toes and a cute little button nose and a round head. When the electrodes came off I saw that she has quite a bit of dark hair, similar to Thomas when he was born.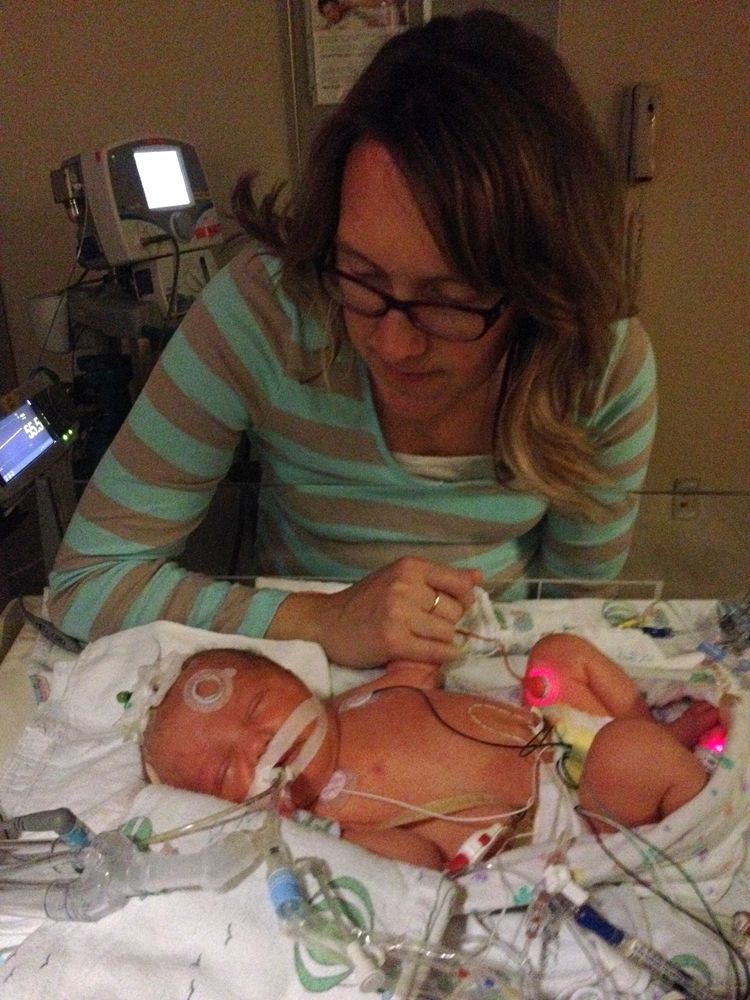 We met the doctor who pioneered this method (nitrous oxide into the lungs) of treating pulmonary hypertension and he is in charge of her treatment. A very soft-spoken man.
According to John the NICU at Children's is different than at St.Joes. Here each baby has a cubicle size area of their own that closes with a curtain to give you more privacy. The parent also can stay for most everything instead of being asked to step out. And they seem a bit more aggressive.
Grace is still on the ventilator. We don't know how long that will be and we are not able to hold her until she is off of that. So, we gently hold her arms or a leg and gently touch her head. We can't do anything to over stimulate her. Oh,how I wished I could scoop her up into my arms.
Today (Monday) she was quite overstimulated first with the EEG and later she had an ultrasound done of her head to check for blood clots. Then they gave her
surfactant
through her ventilator while the lights were bright (another stimulation). They hoped that would open her lungs up more to prevent any collapse. They had planned to insert a pic line for nutrition but couldn't get it in so were holding off. All of this meant she needed more oxygen and her monitor had been beeping most of the time I was there.
The doctors said it is two steps forward and one step back. And so we wait but with much hope. The biggest prayer request is that her lungs would be strengthened to be weaned off of the ventilator.
Thanks for lifting our little Grace before the Lord with us!