How many of you played the piano when you were little? Did you become frustrated with lessons and give up? I have heard quite a few stories with that scenario. I did keep up with lessons taking them for about 15 years. I have always wanted to teach my children to play as well and have bought lesson books and started them but never do get too far. I find some things are harder to teach your own children and that seems to be one of them. But yet, I don't have time nor the resources to have everyone taking lessons and running them from place to place.
We received a complimentary subscription to Kinderbach and I was very curious to see if this might work for us.
What is Kinderbach?
Kinderbach
is online piano lessons for children. It is geared for ages 3-7 and teaches note reading, rhythm, singing, and composition using fun characters.
If you have children, you know that each one learns in a different way and that varies from child to child. Some learn by seeing, some learn by hearing and others by doing. And some, learn in a combination of the three. Kinderbach knows that and incorporates the varying approaches so that
each
child can learn to play the piano.
While the piano keyboard is obviously the basis, it becomes a neighborhood with homes for a cast of characters used to play games, tell stories, and sing songs with your child.
"
The KinderBach curriculum is a proven teaching method which gives children a solid music foundation, aligned with the MENC National Standards for Pre-K, that can translate to any instrument. Basics are basics and KinderBach covers them using language children understand. Youngsters will learn music vocabulary, note reading, rhythm, physical technique, 'do, re mi' singing, listening skills and music composition plus the joy in making music."
Our Experience
Three of our children ages 4 - 8 used Kinderbach and each one of them really enjoyed it! Keep in mind that this program is geared to the younger child as to an adult or older child the
videos
may come across as "kind of weird" as one of my older boys said. But that is the thing that the younger children seem to enjoy and it really draws them in. And while Tank, my 8-year old is past the "recommended" age, he didn't mind the characters and had fun along with his siblings.
In comparing using this program to going through a beginner piano lesson book Kinderbach is so much more engaging. It really draws the child in. With a lesson book we can read together and we can find two black keys and play them on the piano but so what. Do they really care or remember? But when they find out that Dodi the donkey lives in a house between the two black notes that makes it something they can relate to and remember and with a catchy tune to help them.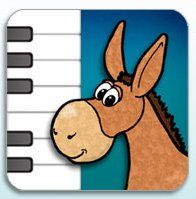 And while often times when watching a video my children will sit with their mouths hanging open taking it all in, Kinderbach provides
activity sheets
that you can print for the child to work on along with the instructor, Miss Karri. This helps to keep the their attention.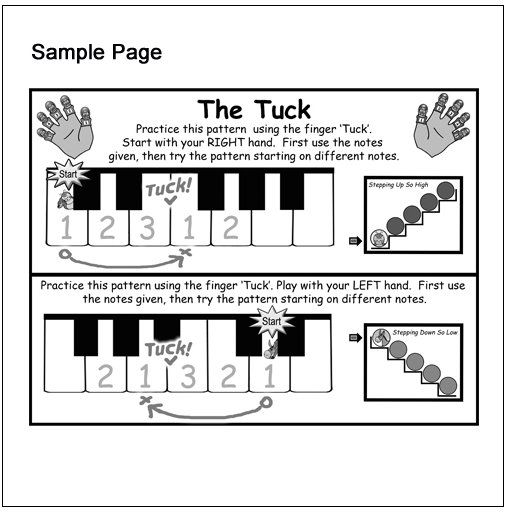 The concepts taught may be advanced but the lessons are simple so that the child can work at their own pace. There are four lessons per week but since you have access to them all at once my three would go through lesson after lesson in one sitting if I didn't stop them.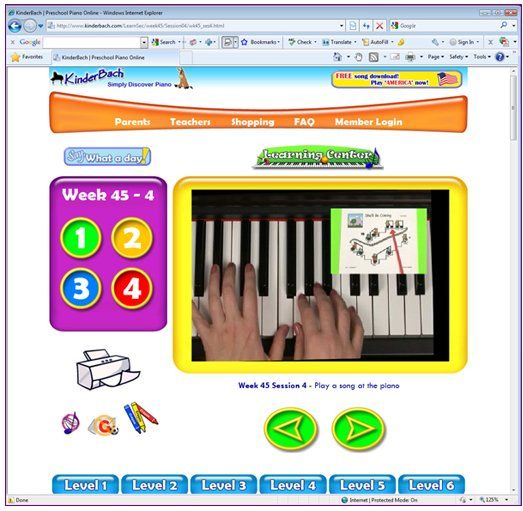 Details
You can try Kinderbach out with
Two Free Online Sessions
. And if you decide this program works for your family a
year online membership
is $7.99 a month which is billed in a one time annual payment of $95.88 -- a great deal! Or billed once a month for $19.99. That price covers each child in your family and includes
Access to all web lessons (over 240 sessions) by computer, iPad, Android Tablet, Kindle Fire or Nook.
Accompanying downloaded PDF activity pages
When you consider the cost lessons would be including transportation that is a big savings!
And new to Kinderbach is an
app for the iPad/iPhone
to make it more portable. Some of the crew reviewed the app. Check out what they have to say by clicking on the logo below.
Special Deal
As a special deal for my readers Kinderbach is offering 30% off any order - homeschool, classroom, online or DVDs.
Coupon Code: TOS_crew2012

**Disclaimer: As a member of TOS Review Crew, I received a complimentary 6-month membership of Kinderbach to review. All thoughts and opinions expressed in this post are my own.