We have done so much remodeling over the years and there are still things to be completed. Once in awhile I will look back and wonder why we even put an addition onto the house. When we moved in all was complete with no projects to be done. No wiring hanging from the ceiling to have a light added, no splotches on the walls waiting to be primed and painted. And now, the list of projects to complete is never-ending. But, I also know we would be crammed in tight if not for adding on and at that time we didn't have any idea how big our family would become.
Typically John will do the work himself or have family/friends help. This time we needed to fix up a bedroom for the boys in the basement. We had the four older boys sharing a bedroom upstairs which was getting a bit tight but then Zippy came along and he needed a place to sleep too. As it turned out he shared our room for the first year which wasn't really in my plans but you do what you have to do. Then John decided to hire someone to do the work for which I was so thankful. All we needed to do was paint.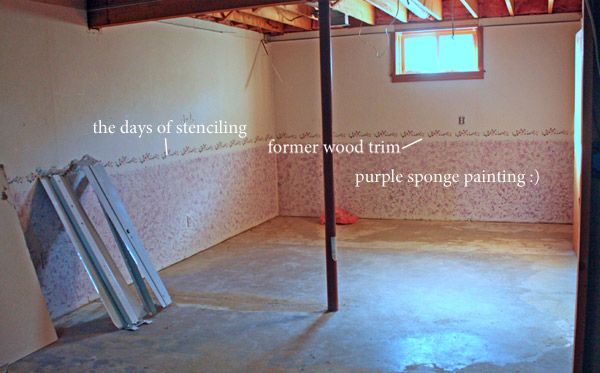 This room is huge and is actually the bedroom that John grew up in. After we moved in my Mom and I painted it and it was a nice guest room for when John's parents and others came to visit. You can see the lovely purple sponged look and pansy stencil. Ahh, the 90's...wonderful years. Ha ha! Funny how styles change.
Over the years I had other plans for a craft room and we divided the room but that never did materialize and who has time for crafts. :)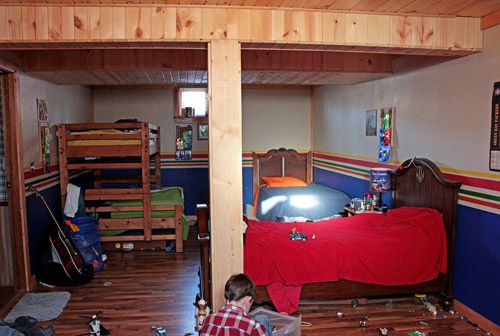 I should have taken a picture right after moving in (end of summer) but didn't, so here is the lived in version. The boys decided they wanted to all sleep on the same side of the room and the other side will be dedicated to legos. What else is there? Couldn't agree on any "theme" as some wanted more rustic cowboys and some wanted sports. Each boy has his favorite color in his bedding and also in a stripe on the wall.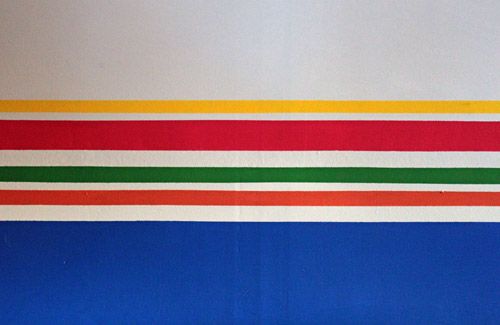 I had this color scheme in my head for a long time. It was a bit time intensive, although since it was something I enjoy doing, it wasn't bad. If you ever want to paint stripes I recommend using the pricier green painters tape that prevents leaking. I did not and thought I could save a few dollars but ended up with jagged lines that I ended up touching up with a fine tip paint brush. That was putzy!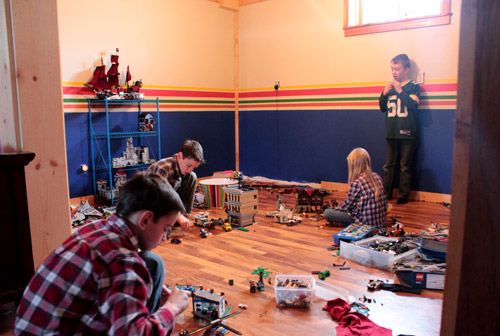 We have ideas to make a storage area and lego counter to build at and shelving to display their creations but that has yet to happen. So now it is a big mass of lego building on the floor. Keep your shoes on if you enter! Unless of course your feet like my children's seem to be -- tough and able to step on anything without pain.