You may have figured this out from previous posts of mine as I feel like I say it often but organization is not a skill I flourish in but rather something that takes a lot of work. Too bad as this Mom could really use it as a natural ability! I don't know about other homeschool Moms but keeping records has always been a struggle for me and with high school on the horizon I have to have records. I read about Luke's List from
Joyce Herzog
and knew I needed this!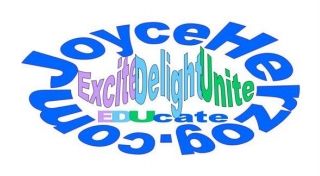 I received both
Luke's Life List
and
Luke's School List
. The title is based on the scripture Luke 2:52 -
And Jesus grew in wisdom and stature, and in favor with God and man
(NIV). Both are spiral bound 8 1/2 X 11 books. I wasn't drawn in by the appearance but when I opened
Luke's School List
up -- Wow! Very overwhelming! There were lists and charts and seemingly everything that my child will learn over a lifetime.
Now, thankfully the introduction explained just how to use the book and to take it little by little. It is arranged in such a way that takes each subject and breaks it down into individual skills and goals which are listed in table form. So for example Math Skills was broken down like this:
Counting
Addition
Subtraction
Money
Time
Fractions
Measurement
Multiplication
Division
Decimals
Geometry
Charts, Graphs, Tables
Problem Solving
Ordinal Numbers
Calculator
Percent
Ratios
Then it was further divided by goal with anywhere from 15 - 40 for each. Two goals that fell under Time were:
Knows 7 days equal one week which was listed as grade 2.
Find elapsed time between two events which was listed as above grade 4.
Now the idea is you go though each subject for each child and pick out a few skills they need to work on and input them into an Individual Progress Chart which is developing a plan to make the most of your time. It is creates a "guide of where you are coming from and where you are going, a record of when you get there, and the proof that you have been moving." In looking at the subjects I wondered just where to begin. After all, there were so many goals that I have not even learned listed here. But then I read the intro again and remembered this is a LIFE list and not something to be accomplished just during the young years of learning. We all need goals and this has helped me to better visualize just where I need to begin (or continue) for each child.
Here is an idea of what the pages and tables look like. This is a portion from the history section. There are three columns 1 for introduced, 2 for becoming familiar, and 3 for knows in-depth.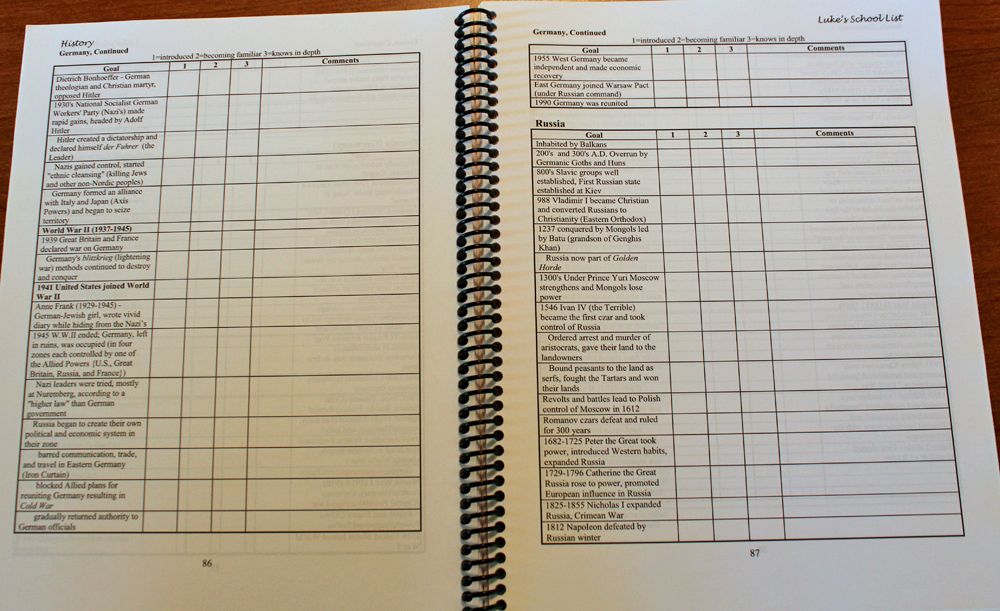 Luke's Life List was very similar in presentation except that the subjects come from the verse I listed above. They are:
Early Childhood -- Basic Growth
Wisdom -- Growth of Discernment
Stature -- Physical Growth

(Health & Hygeniene, Physical Skills)

Favor with God -- Spiritual Growth
Favor with Man -- Social Growth

(Social Skills, Household Skills, Leisure Skills)

Life Skills -- Maturation

(Adult Life Skills, Independent Living and Vocation Skills, Government and Economics Knowledge)

Academics -- Mental Growth

(found in Luke's School List)
An example of a goal listed under the Wisdom category is:
Knows Who God is or what He is like and then lists attributes such as: Gracious, Redeemer, Strength, along with scripture references to look up.
A goal from the Life Skills catagory is:
Knows the items of a household budget.
There are so many goals I could list but the lists are so in-depth I can't get over it. This book is such a wonderful tool! There are various key scripture verses to memorize in regards to each category, specific ways to study and learn an in-depth knowledge of God's Word. It has character skills and just everyday type learning skills.
Luke's List books are for all ages. There are goals from infant stage (finger feeds self) all the way up to an adult. They are a great way to know where you are headed with each child without guessing along the way. It will take time to go through and plan but well worth it. And as your child gets older as suggested at junior high age they can look for the information and learn on their own and check items off the list or initial the columns. There are many ways of using this book and you would need to find what works for your family. I will be making a progress chart for each child but also this summer hope to go through and put their initial next to each item they have mastered.
You can purchase Luke's School List for $30 and Luke's Life List also for $30.
To read reviews of other Joyce Herzog products
click here
.