Reviewing products can be a lot of fun and a great way to find what might help my family learn best. Lately, I am learning about companies I hadn't known about and this is one of them.
Lone Star Learning
offers teaching tools that were created by teachers to better help students learn. I reviewed their
Target Vocabulary Cards - Math 1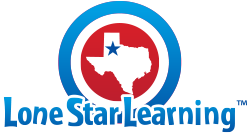 How it worked for our family
We mainly used the vocabulary cards as you would regular flash cards going through them a few times each week. I would show the card and they would tell what it means. Now, the cards do not have the definition written on the back so if you don't know what it is it may be helpful to write it on.
The Vocabulary Cards are not your typical set of cheap flashcards. I was so pleased with these sturdy, coated cards and found them so bright and colorful. They are also nice to have hanging as "learning decoration". Hanging a few from small clothespins on a line of twine is my favorite way to display them rotating new ones in from time to time.
You can also do a word of the day or have the child/student write out the definitions and match them to the correct word.
It was mainly my older boys (ages 9 - 13) that used them but they definitely could be used with younger children.
The cards are very helpful for that visual learner who needs to "see it" to understand it. I was reminded of when our oldest was struggling to read. We would go through his boring flashcards of sounds and the thing that helped him most was when he drew a picture on the card to represent the sound such as a band-aid to remember the ow sound. The vocabulary cards are right along the same line of thinking. You can tell someone which is the divisor and which is the dividend and some may grasp that concept but the terms are so similar so how do you remember? I am horrible at math and I can't tell you which is which. But seeing it graphically on the card really helps cement that in your mind.
We were privileged to be able to review a second set as well and that was the
Science Vocabulary Pictures
. Look how eye-catching the pictures are!
Details

Disclaimer:
I received a copy of this product through the Schoolhouse Review Crew in exchange for my honest opinion. I was not required to write a positive review nor was I compensated in any other way. All opinions expressed are my own or those of my family. I am disclosing this in accordance with FTC regulations.