The beginning of the year is always a busy one for us getting ready for the 4H Music and Drama festival. There are two things that I really appreciate about being involved: It builds confidence in the kids that I see grow each year and they have so much fun getting to know everyone. My children have made really good friends through this portion of 4H.
This year we performed the musical
A Kid's Life by John Jacobson
. Our club typically purchases a script with CD and the only problem we have is our 15 minute time limit. There are many songs and lines cut all while keeping the story intact. One of our long-time 4H moms takes on the job of directing while the rest of us assist in any way we can. As always a week before the performance we were really concerned that it wouldn't come together but of course after much work the kids did great!
This is a picture from one of our final practices with George as a bingo caller during a lively game song. You can see Zippy in the background. He enjoyed wandering in and out at each practice and when the kids were up on stage he had a hard time not being up there with them. If you listen to the
YouTube video
you can hear him screaming at the beginning. At one of the practices Re-Pete, who plays the dad, comes back in the door with his wife. Zippy came walking in right along with them as if nothing was out of the ordinary. That made us laugh as it looked as if Dad and Mom went out on a date and came back with a baby! Ha!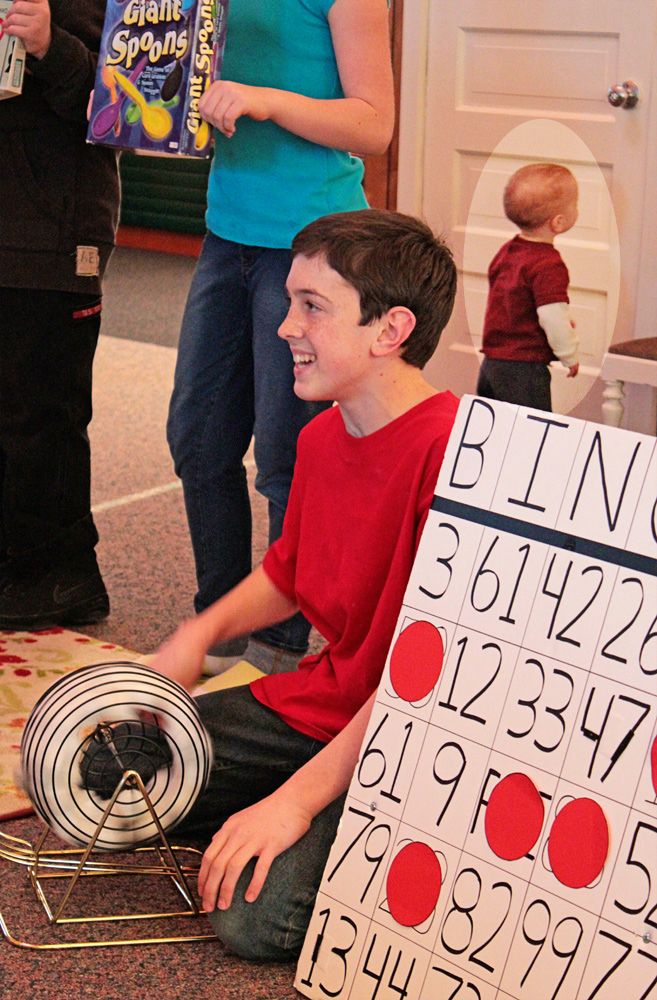 The Willing Workers performed mid-February and we enjoyed a fun day at the festival both watching and performing.
The opening scene. A typical day in the life of a family. Pete is playing a video game. Missy is on her iPad. The other boys are part of the chorus. George and Tank really wanted more lines but there weren't enough parts for this big group.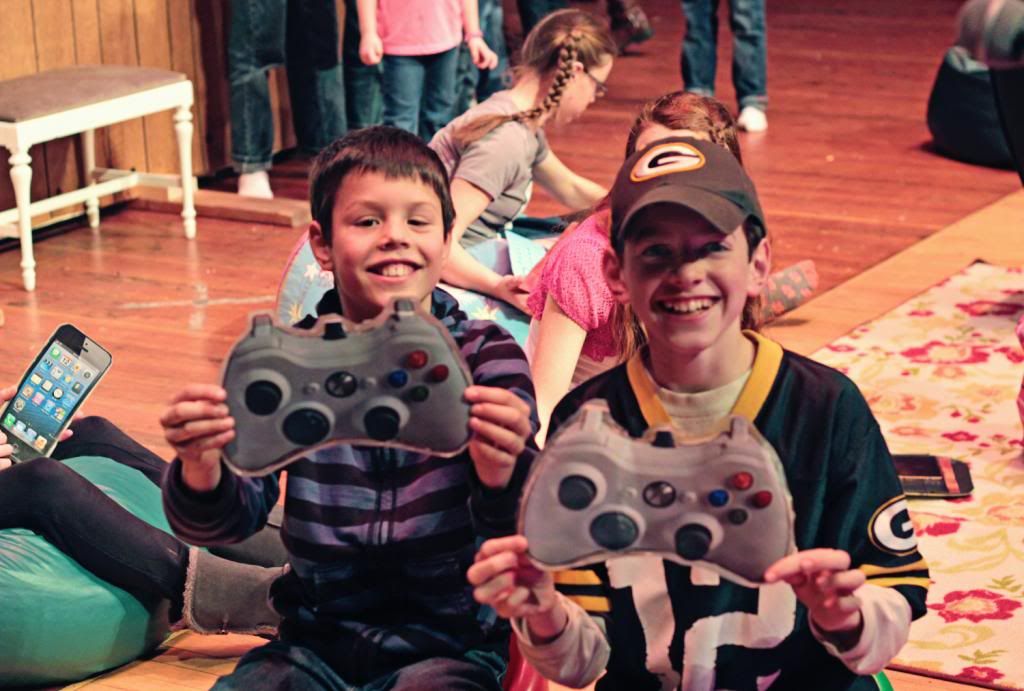 This was from the stage practice so "Grandma" doesn't have her wig on but I liked this shot of Pete and Missy wondering what kind of games they can play without their gadgets.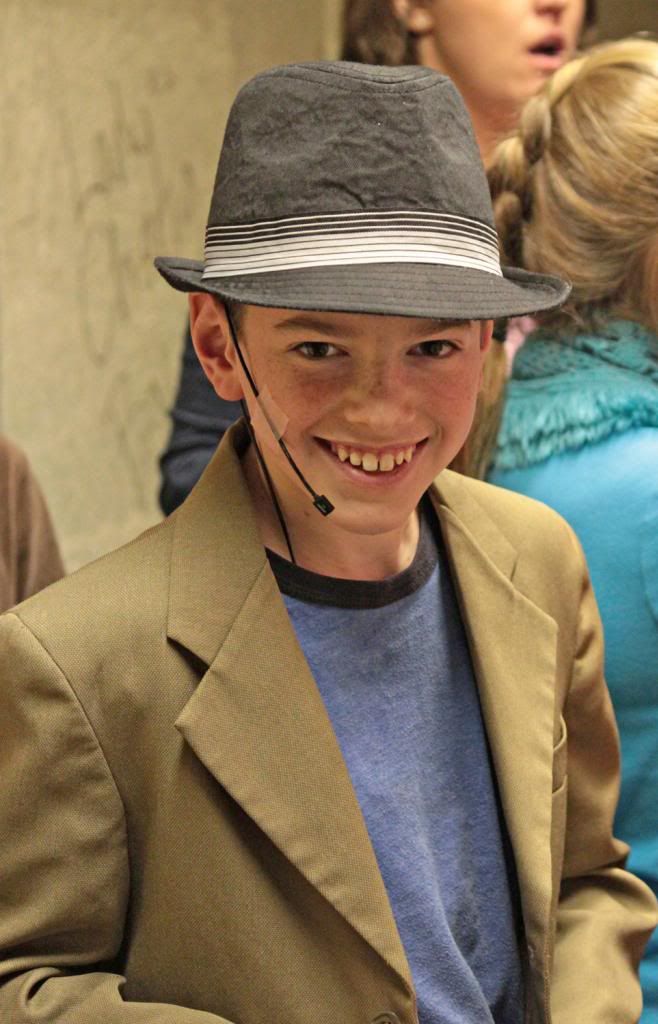 Dad (Re-Pete) and Mom came home and Missy went to give him a hug.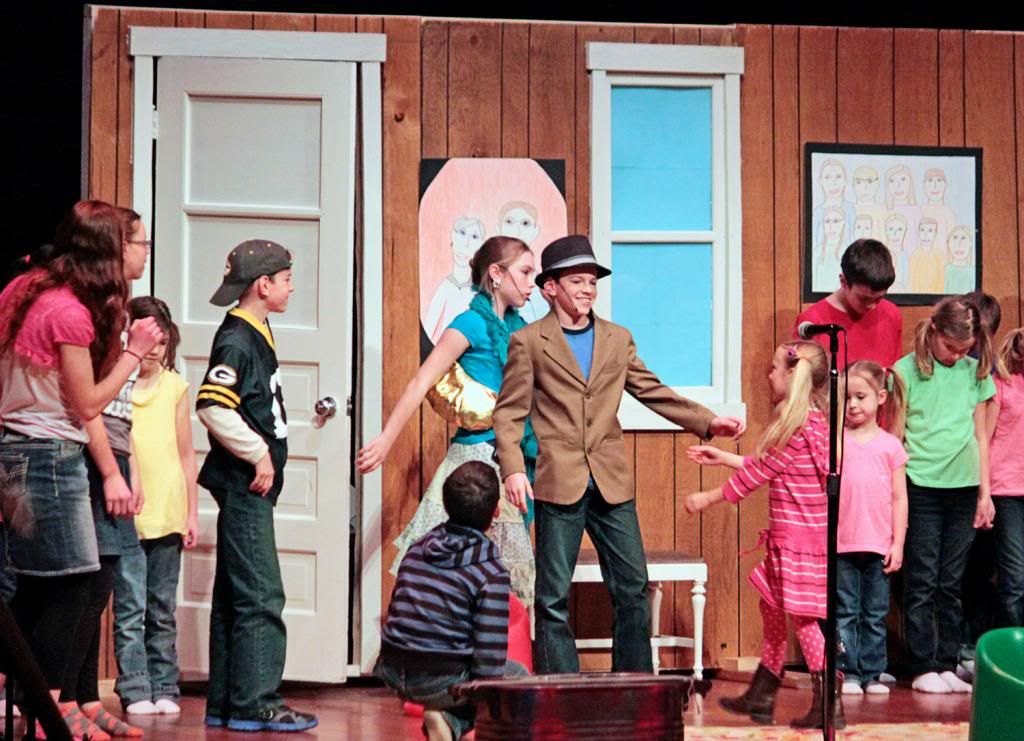 A portion of the kick-line on the family band song.
One of my favorite parts is when the narrator/brother is speaking and all of the kids freeze in some form. You can see Pete frozen ready to give a high five to his "sister". The choir was always supposed to have their head down.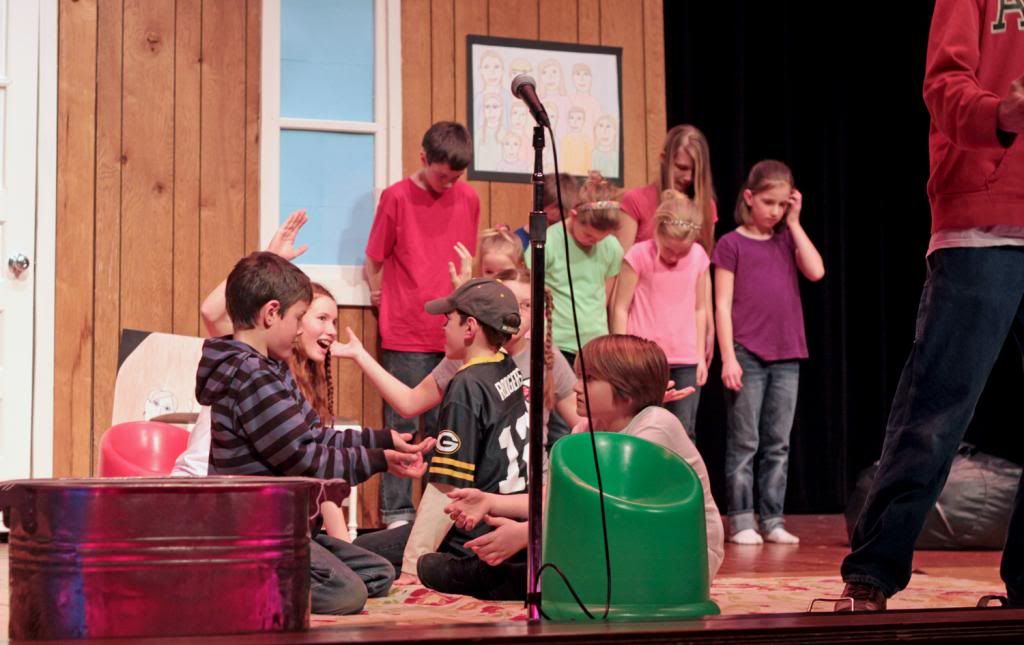 Having fun dancing around on the closing song.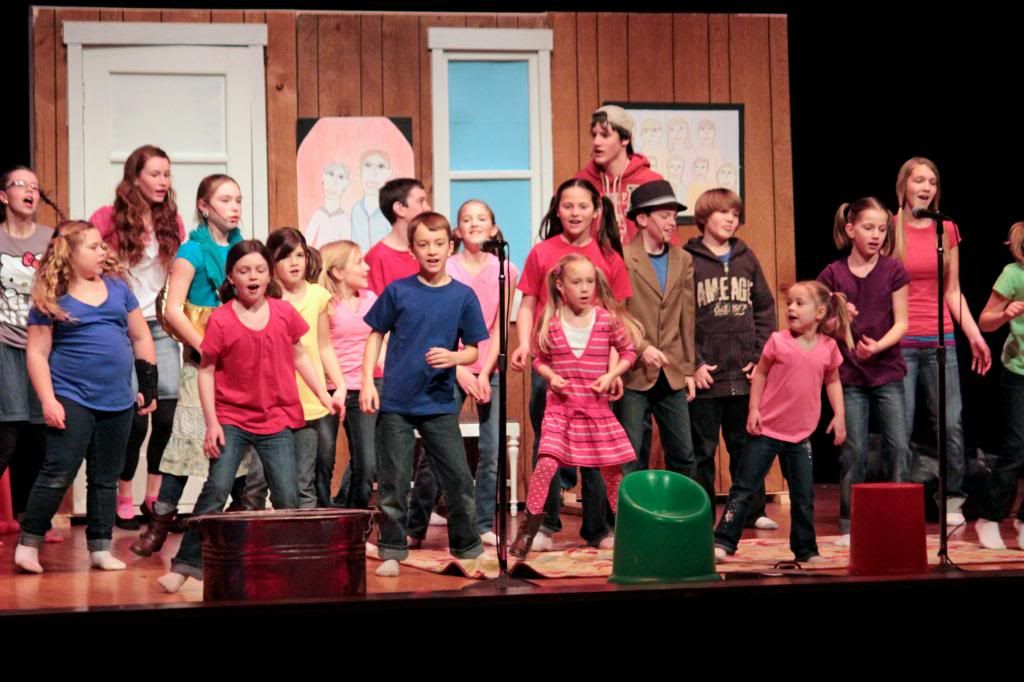 You can watch the video of the performance one of the parents put on YouTube below. It isn't the best quality but you get the idea. During the game song Re-Pete and Tank are in a group playing charades off to the left so you can hear Tank guessing. He also says the line -- "table football" and during that same song Missy is off to the right playing Go Fish with her "grandparents" and says "It's easy!"
The Willing Workers performance was simply amazing! Especially since they only practiced twice a week for a little over a month. At the end tears were streaming down my face as I was SO proud of them! The judges really enjoyed the performance and had to work to find a constructive criticism and in the end found none. Our group WON!!!! So, we may be headed back to the State Fair in August yet again!
Part 1 of A Kid's Life


Part 2 of A Kid's Life