Spelling -- it seems you either get it or you don't and if you don't you need to work at it. Most of the mistakes I still find with my boys is that they spell the way a word sounds, which makes sense. Spelling often doesn't. So how can we make spelling fun? I found a program awhile ago called Spelling City, although at the time I didn't work too much with it. But I knew it looked good and had recommended it to my sister to help my nephew practice his spelling words in a fun way.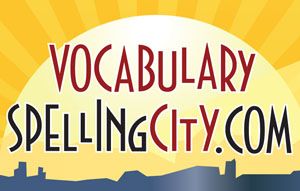 Now that I had the opportunity to review
Vocabulary Spelling City
I realized how easy it is to make it a part of our every day learning. While you can use this program free, there are limitations with that. I recall my sister telling me that the spelling games her son most wanted to play were part of the premium subscription.

What drew me to Spelling City from the start was the ability to put my own spelling list in the program for the kids to work with. T
hey can hear the pronunciation. They can see the word through flash cards. They can play games and then take a test. Not only that but you can find specific lists to use for whatever level your child might be at. I also found that if you use a program which we have used called
Sequential Spelling, they have partnered
together to help your child learn the word families.
What child doesn't like to have time on the computer to play games? I know some of my children will clamor around the computer when one person is playing a learning game online just waiting their turn. That is the draw with Spelling City they make learning fun.
But what is the benefit of purchasing a subscription? One thing I noticed right away is there are no ads which is a nice plus to avoid the distractions. But more than that it includes:
Progress checking
Record keeping
Word definitions
Parts of speech
Synonyms
Printable flashcards
Premium games
and more...
Vocabulary Spelling City is recommended for K-12. A
premium subscription
for a family of 5 students would cost $29.99 per year and when you consider how often you use it, how it can be used used with other subjects such as science, and all of the benefits that is a good deal! This is in no way just a program for homeschooled students but can be used in the classroom or at home to practice those weekly spelling lists.
If you want to learn more you can read additional reviews by clicking below to find out what the rest of the crew has to say...