I love music and especially the old hymns. It is always fun to know the background behind a song and the book the kids and I reviewed was the perfect way to learn more about some of the great old hymns we sing and their writers. There are so many books I have on my "to purchase" list that I cannot possibly keep up so when I saw this available to review I was excited.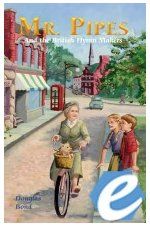 is the first book in a series by Douglas Bond
published by:



This book is is not just a textbook with facts and history to memorize but is written in my favorite style -- as a living story. It is about two children, Annie and her brother Drew who spend the summer with their Mother (who isn't really part of the story) in a quaint old town in England. They are dreading the summer ahead thinking they won't have any fun until they meet Mr. Pipes, an old gentleman who plays the organ at the local church. He takes them on various adventures and tells them stories along the way of famous hymns and about the writers who lived in England.
They learn about:
Thomas Ken
Isaac Watts
Charles Wesley
William Williams
John Newton
William Cowper
Augustus Toplady and Thomas Kelly
Scottish Hymn writers of the 19th Century
Woman Hymn Writers
John Bunyan
While this is a historical fiction book you will learn more than the history of hymns and their writers, but also some of the history of England, geography, and vocabulary words. It also includes the music for one of the writers hymns at the end of each chapter.
The suggested grade level is 7th - 10th but if you are using it as a read-aloud, which is what we enjoyed doing, even your younger children will enjoy it. The chapters are long, so while my 4 and 7 year old sat and were interested, they couldn't make it through an entire chapter. We also had fun with the setting as I always try to take on the accent of the character, so it was fun to try out a British accent.
Other books in this series are currently available for $9.89 in paperback:
The PDF version of
Mr. Pipes and the British Hymn Makers
is available
for $8.79
. This is the version I reviewed and while it worked okay, we only have a laptop so I ended up carrying that with me to the couch. For those of you who are more technologically advanced, this would work well for you. But if you would rather have it in
paper back it is also available for $9.89
.
If you would like to read more check out what the rest of the Review Crew has to say by clicking below.
**Disclaimer: As a member of TOS Review Crew, I received a complimentary copy of this ebook to review. All thoughts and opinions expressed in this post are my own.