I had seen the book
King Alfred's English
advertised in various homeschool publications. A book about the English language and why we speak the way we do sounded very interesting. Afterall, I am from an area that combines some German and English and some words may give clues to where I live. For instance, my windows are "schmeared" (smeared) full of fingerprints from the children. Or I like to "go by the lake" and would you like to "come with?" I also drink out of a "bubbler" (water fountain) and so I thought it would be fun to read about where the English language came from.
I had the opportunity to review
King Alfred's English
:
A History of the Language We Speak and Why We Should Be Glad We Do
-- written by Laurie J. White for the TOS Crew. I decided to read it for my own interest to begin with.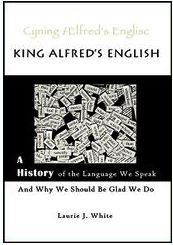 "But what is this language we call English? Where did it come from? Is it derived from some other language or did it spring up on its own? In fact, do languages ever spring up on their own, or do they all go back to, you know...the Tower of Babel? And what type of language is it, besides being Germanic, whatever that means?"
These are some of the questions that I had answered in reading
King Alfred's English
. I found this book to be so engaging and it really kept my interest. Typically I would find grammar and language to be a bit dry but yet Laurie introduces both subjects in such a way that I find myself wanting to know more. Along the way I excitedly shared portions to my older boys and decided that it will fit in perfectly for studying the middle ages so we will read this aloud this fall. I learned so much and in a way it reminded me of
Story of the World.
You may wonder as I did, who King Alfred is. He was the very first King of England also known as Alfred the Great. Among his many accomplishments was the promoting of the English language making the ability to read and write a qualification to be a nobleman. It was a way to unite the English people by using one common language.
So where does language originate? It is a gift that God has given us to communicate with Him and since "living languages always simplify over time" language is evidence of His design. I love that!
One example of languages simplifying over time is the word
you
which was interchangeable with the words
thee, thou
, and
ye
. Even after they were gone from common speech they were still used when praying as a form of respect to God. I always love to hear my Grandpa pray out loud as he still prays what we call a "King James Prayer" and will say such things as "We thank Thee Lord for thy many blessings".
King Alfred's English
also covers the history behind the various bible translations and discusses Shakespeare, printing presses, why the English language is so difficult to spell and so much more. I could go on and on about this book but I suggest that you pick up a copy for yourself. I think you'll enjoy it!
The recommended age is
12 - adult
but
I found that my 10 year-olds enjoyed portions of it as much as I did.
To use this with students there is
supplemental material
such as:
Chapter

Worksheets

Unit Tests

Links to related online literature and primary sources

Links to articles, images, and videos that expand the topics in each

chapter

Suggested movies
These are available to you at:
King Alfred's English
is one of CBD's top 10 picks for Homeschooling and is available there in
paperback form for $14.89.
As a special deal from the author, if you are interested in picking up a copy of King Alfred's English I can give away a code to purchase a paperback copy for 50% off ($8.47) to 5 readers. Please let me know in the comments and I will get that code to you.
**Disclaimer: As a member of TOS Review Crew, I received a complimentary copy of this ebook to review. All thoughts and opinions expressed in this post are my own.