As I post these pictures I am reminded of a Christmas program our church did when I was a teenager. It was a slide show and my dad narrated and put music to it. Not powerpoint but with an actual slide projector. We listened to that recording over and over and each time I hear the music I can hear my dad's voice.
"Christmas, what pictures that word brings to our mind. When we think of Christmas we think of many things at once...."
Here are a few pictures that will always come to mind for me...my family.
Christmas brunch at the adult table.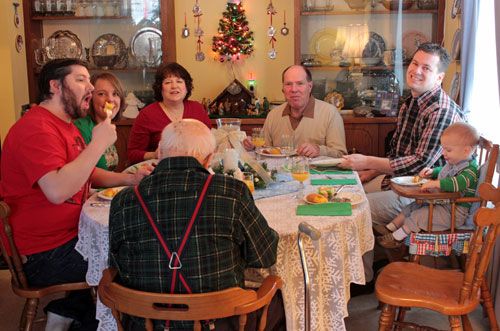 For gift giving we exchange names adults and children alike and it is a lot of fun to find out who had who. Although, I knew who everyone had by the end and not by trying to figure it out as one of my children likes to do. When you have 6 children shopping for different people that takes a large part of the mystery away. And then others ask me what a certain person wants which takes more of the mystery away. But in the end it was so much fun!
To make it last longer we start with my Grandpa receiving his gift and working our way down to the youngest.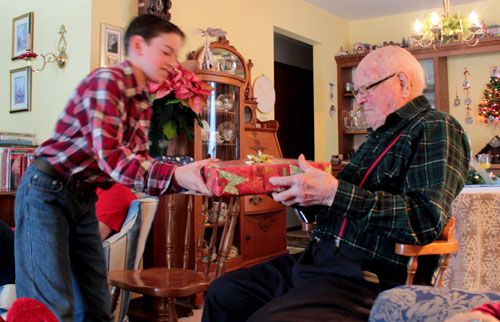 This year we were able to trick George and confuse him so thoroughly he had no idea who had him which was great!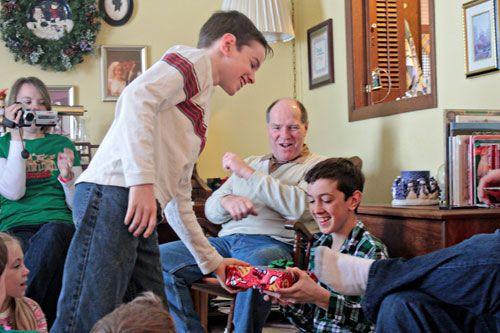 I love when people say "Oh, ____ had me!" This year my nephew had me and he puts such thought into his gift. I got baking pans (that he reluctantly gave me) but he picked out two necklaces all by himself that had to be just so. He knew what colors I liked and that I didn't need earrings to match. So sweet! I even got a gift from the "Secret Shop" from school.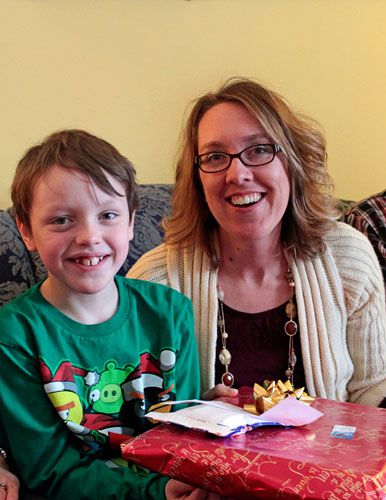 John was making fun of me as I wanted them to take their time giving the gift so I could get a picture. Love his expression! What a goof!
Missy finally got the cash register she has been asking for. Now she can play store to her hearts content! And maybe learn some math along the way.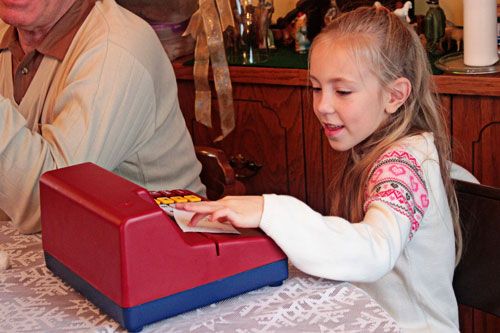 Tank and Seppy were there but I didn't think you wanted to see pictures of every gift exchange. :) Here is Zippy doing one of his favorite things this Christmas season. Reaching for the ornament. We worked hard with him so he is a little better at just touching with one finger. Of course there is still the occasional grab and throw.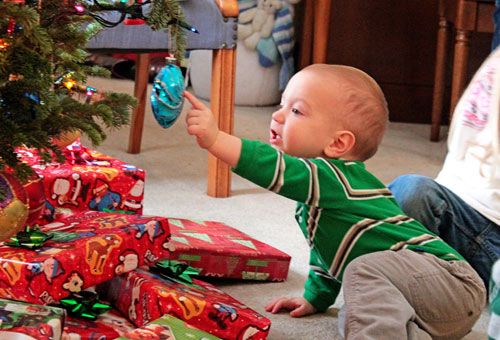 When my sister and I were little girls we made up actions to the The Twelve Days of Christmas and liked to perform them each year. And for me it has to be to the Dinah Shore version my Dad always played from a record. We haven't done that for awhile but this year revived our act much to the enjoyment of our children. They cracked up on the 6 geese as we pretend we are laying eggs and plop our bottoms down and make a noise. Of course we were cracking up too and remembered what a workout it is by the end. John videoed it but I am not going to share that here. :)
Two turtle doves...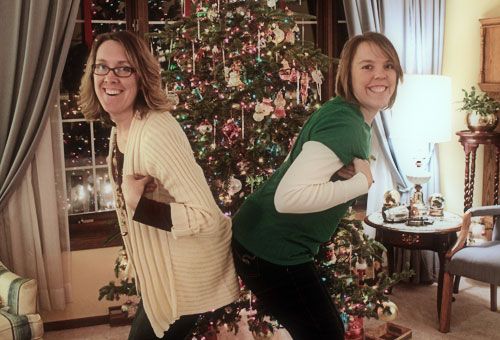 ...and a partridge in a pear tree.