Over the years of having children I thought I had left my "perfect" tendencies long behind which reminded me of a
post I did when I first began blogging
. Times haven't changed as much as I thought they had. I usually try to set my expectations for things quite low so as not to be disappointed. But I am finding out that I still might have a bit of wanting everything to be just so.
We set out last Monday to find and cut down our Christmas tree. We decided to go back to a tree farm closer to home since I no longer need to have a huge tree (they don't have huge trees). John got off of work early to get there before dusk and we all were eager with anticipation. I cannot recall ever picking out a tree where the temperature was a balmy 50 degrees or so and we were wearing just a light jacket. The kids were excited as we got onto the tractor hay ride out to the field.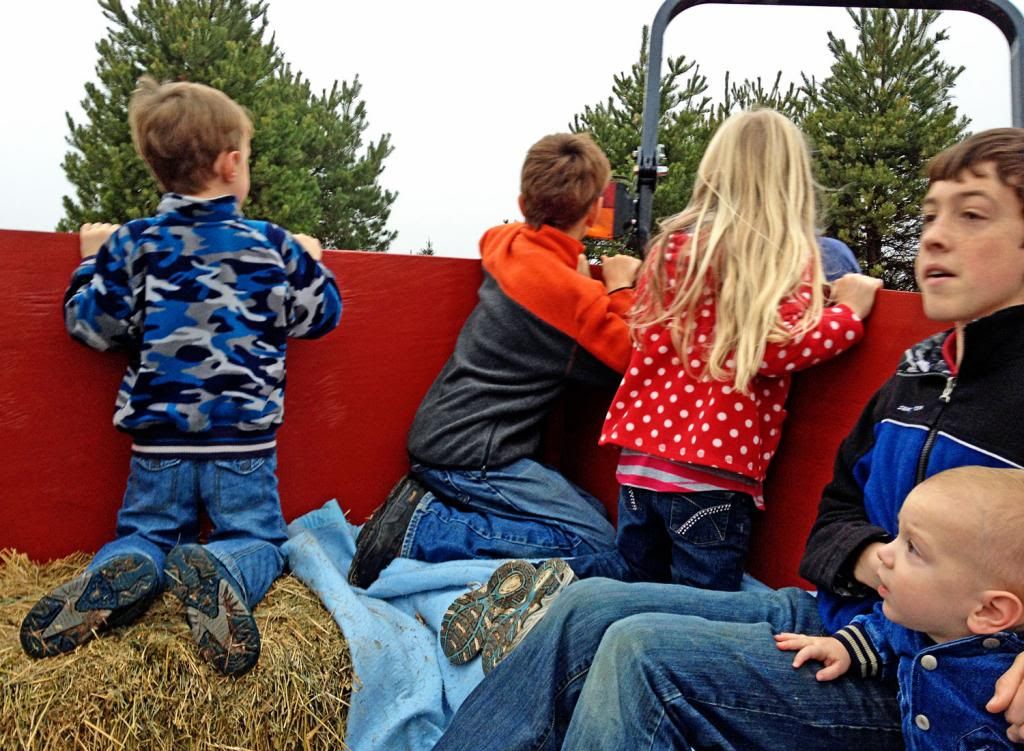 We watched all of the trees passing by pointing out some along the way. We had in mind to get a Fraser Fir this year as my parents always get them and they seem a little hardier with maybe sturdier branches than the typical Balsam we get. Well, this was harder than we thought. It seems everyone wants a Fraser and all of the nice ones we found were a bit small or misshapen.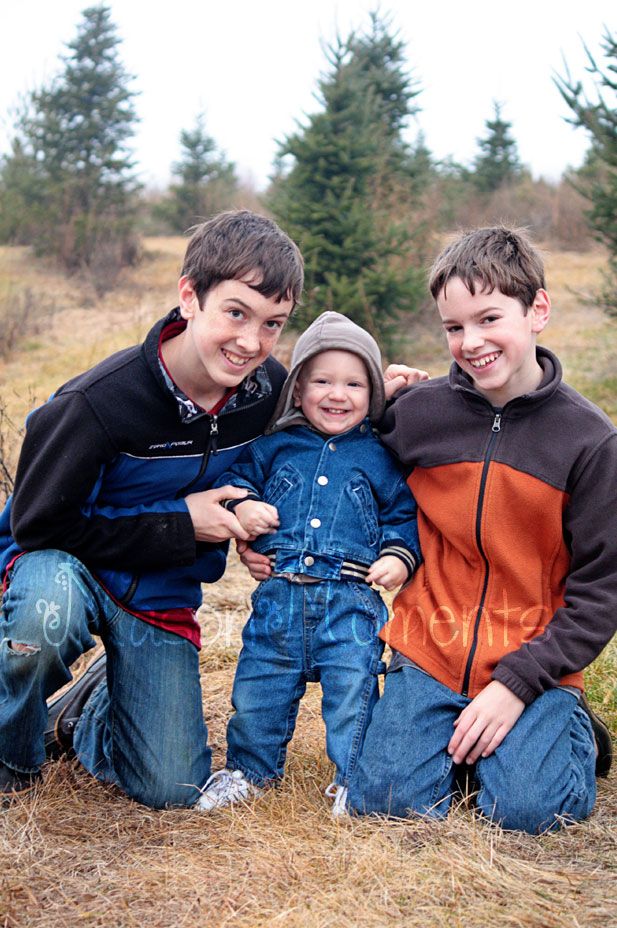 John kept telling me he found some really nice ones already cut in the pole barn. You don't go to a tree farm to pick an already cut one! But after much walking and contemplating getting a funny shaped tree we agreed to go look in the barn. One of our boys was very hesitant about this. He was looking forward to the chance of cutting the tree this year. And I really, really wanted that for him. But upon entering the barn he looked at me as we knew that the best trees were in here. My heart sank. What do we do? We want a nice tree but I knew how much he longed to have his chance to cut a tree. We debated going to another tree farm but it was too late that day so we ended up getting the tree in the barn. His disappointment was great and I understood that and we talked about it quite awhile. Always a lesson to be learned. Life is not always what we want it to be.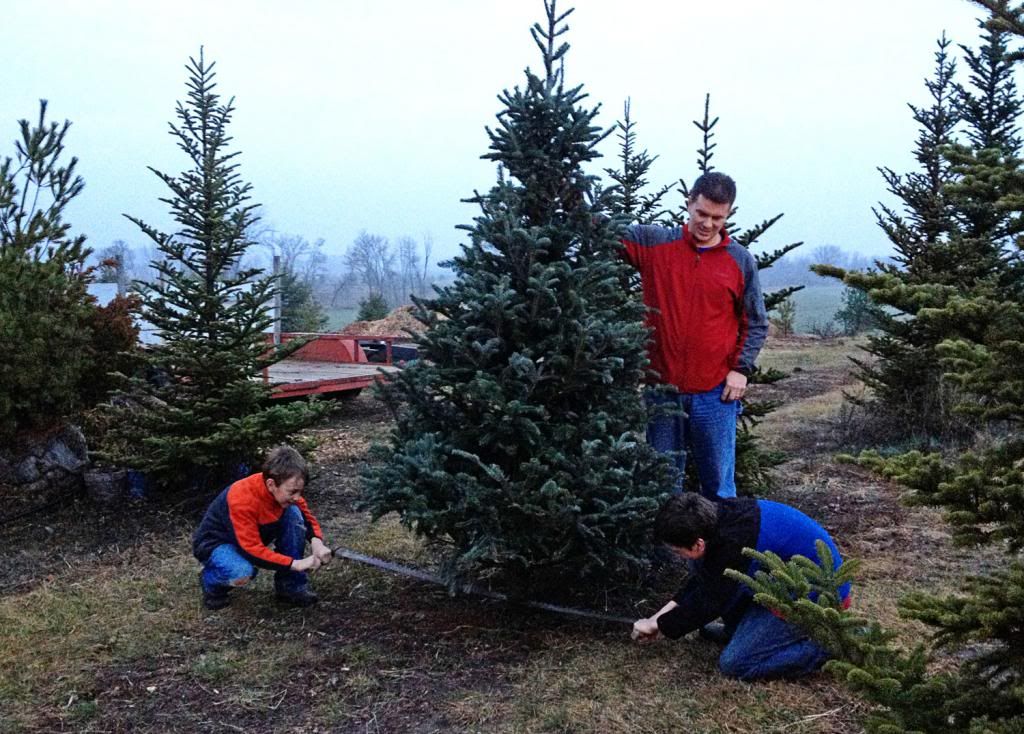 The tree ended up being a bit smaller than I had wanted but it would do. George and Tank did pretend to cut it, although not quite the same. :) The kids had fun wrapping it in netting.
I was so thankful for my helpers with the lights this year. Pete and Re-Pete went through each set to make sure they were working and replaced bulbs as needed. (I should have taken a picture!) Then they handed them to me and kept everything moving. It made the task go much faster. The ornaments went on and soon we began to notice that our tree did not quite look the same as it had. The branches now hung low which made it harder to hang anything on. And so we didn't even finish hanging them because it doesn't really work. I skipped the beads too because it would add to the problem.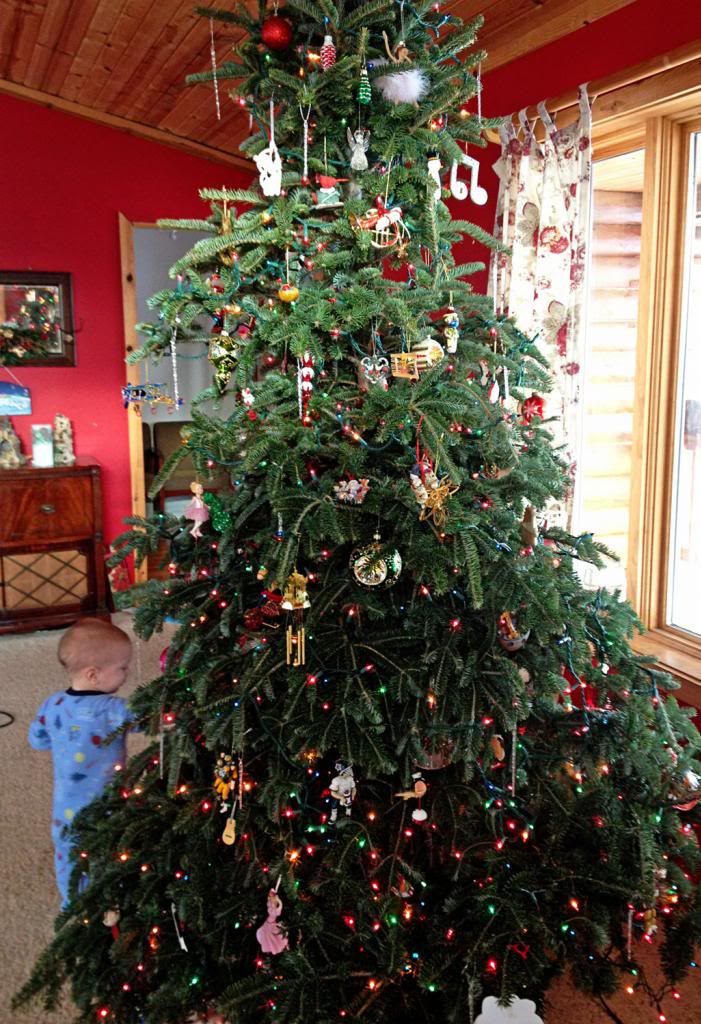 I saw my Mom and Dad's beautiful tree last night and I must say I was a tad jealous. It's branches hang straight out as they should and the ornament spacing is just right. Ahh, it may just be the "perfect tree". I have had thoughts of going out and cutting a new one but what is the point of that?
And through the past few days a song by Ray Boltz plays through my head about the "Perfect Tree".
The perfect tree
Grew very long ago
And it was not decked with silver
Or with ornaments of gold
But hanging from its branches
Was a gift for you and me
Jesus laid His life down
On the perfect tree
Christmas is not about the tree or decorations and many other things we associate with this time of year and I am glad my "weeping willow fir" as John calls it, has reminded of that! I know I can still get hung up on wanting things, especially at Christmas to be just so. I want to make memories that the children will remember. But I don't need to orchestrate each event and each story read or cookie decorated to make memories. All we need to do is live and love together. And to always put the focus where it should be. Not on ourselves and our desires but remember that it is all about Jesus. He needs to be our focus. Let's worship and adore Him!
With all the celebrations
Sometimes the truth is lost
That every step this baby took
Brought Him closer to the cross