Science at our house seems to come naturally as the boys have always been interested in how things work, the mechanics of something and are just very curious. And while I prefer books to look at for ideas of experiments to follow I am finding online programs that are very well done and useful for more in-depth learning.
Supercharged Science
is one of them.

Supercharged Science is an
online learning program
for grades K-8 and 9-12 that has everything planned out for you. It is loaded with study units and within each there is reading material, videos to watch, experiments to do, and exercises to see how much you have learned. This can be used alone or alongside your current curriculum and it includes a
conversion chart
to see how they correlate.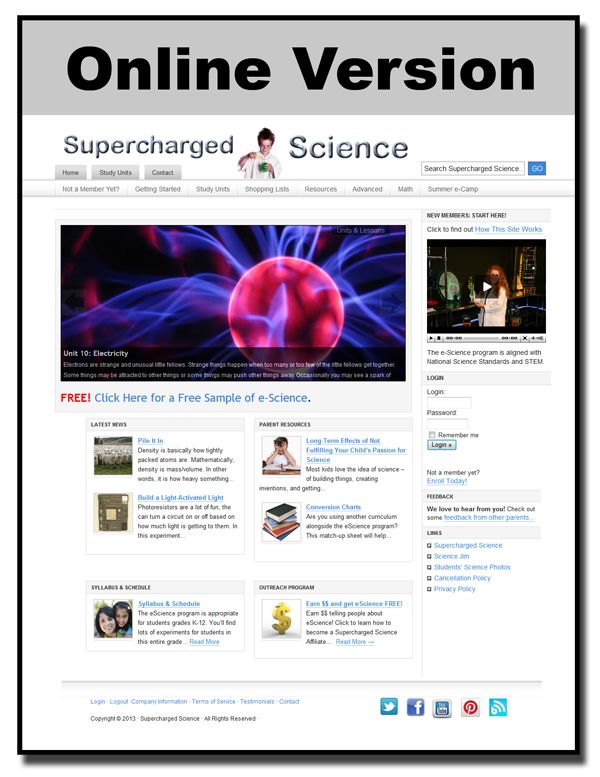 How It Worked For Our Family
Pete and Re-Pete were very excited about a chance to do more experiments and Pete especially took off with this program on his own. Now, it can be used in many different ways but as recommended the way to pull them in is to start with experiments. There are over 800 experiments in all so there is a lot to choose from. They also recommend quality not quantity which I really appreciate.
The study units are so full of information that you can spend weeks on one unit alone depending on how in-depth you want to go. We began with the first unit on Mechanics and watched the introduction from Aurora, the creator of Supersharged Science, then followed her instructions on what to do next. There is an outline for each unit to select what follows. After that the boys began to jump around looking at what was all offered and what experiments they could do. In the Chemistry unit they were quite amazed to be able to "see" carbon dioxide. And all of the children would be around when it was experiment time.
We did not go quite as in-depth as we could have and mainly watched the videos and did experiments talking about some of the vocabulary words that were listed in the lesson plan. Now that we have used this program for a few weeks I see that it will really fill a need.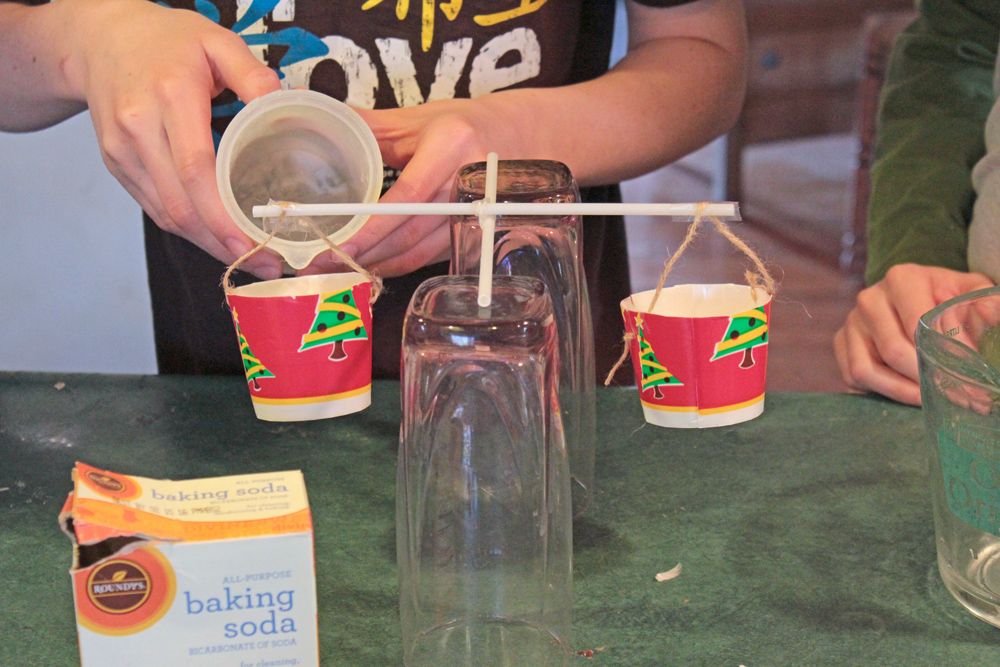 Carefully pouring the invisible Carbon Dioxide (made from baking soda and vinegar). Our balance is not perfect but it works with this experiment.
You can see that the cup on the left went down from the gas and now you can "see" it.
What I Liked
I have probably said this before but I love when everything is planned out for me. Organization is not one of my skills and
Supercharged Science is totally organized leaving me nothing to do but gather supplies for experiments
. It has:
Videos with Aurora who is so engaging as she explains the unit to the student.
Supply lists for each unit conveniently located on the navigation bar
Vocabulary words with definitions ready to print out.
Reading material to expand on what has been learned about gravity and friction for example.
Experiments with video instruction in addition to completely written out instruction if needed.
Exercises with questions to see what has been learned.
And answers to those questions.
What I appreciated the most was the service from Supercharged Science. Aurora periodically sent emails with additional fun experiments for the kids to try and was always so encouraging and excited about the tidbits of information she was sharing. Any question you need answered and she was available.
The only downside, which is so minor, is that we rarely had all of the supplies needed for the experiments that the boys would choose. Not that they are rare, rather we lack many basic things like paperclips. So they began to look for experiments where we had everything we needed. That is the one area I need to prepare better for. Instead of jumping around I am now going to have them go from unit to unit so that I can gather all that is needed.
Details
Membership
for one month of e-Science for K-8 is $37 and e-Science 9-12 is $57. During the first month students get access to the first 7 units, plus additional sections like "The Scientific Method". In addition, if there is a later unit or two that you would like early access to you can send an email and you will get free access to it immediately. This way, if someone is working on a certain topic, they are never made to wait months to have access to it. Each month, you get access to the next 2 units in order. If you would cancel your subscription your access ends.
Supercharged Science does offer a
trial membership
for a month so give it a try!