I love products that are all planned out for you and there is little that I need to do to prepare for! That is the case with
Homeschool Legacy's Once-a-Week Unit Studies
. For those of you who have never used a unit study or don't know what it is it -- a unit study takes one topic, and based on that study literature, history, science, art, music, bible. It captures a child's attention (and this Mama's) and helps to understand how pieces fit together as a whole.

A Bit of Background
Sharon Gibson, a homeschool Mom of 16 years, complied the unit studies as a way to bring the family together and instill a love of learning and an excitement about the Lord.
Once-a-Week Unit Studies were designed for your children to take a breather from text books and enjoy, creative, hands-on assignments. The only activity you continue throughout the week is the reading. Your children select books from the unit study's library lists to read all week long, and you read the suggested family read-aloud.
You can use this as a supplement to your present curriculum but it is also comprehensive enough to use as your main source for history and science.
Our Experience
Out of the many studies offered the boys thought it would be fun to study
Knights and Nobles
which is a 4 - 6 week unit study.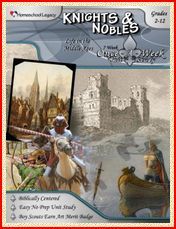 I wanted to take it slow with this as we will be studying this period in history a bit later this year and this will fit in perfectly for that. For the first week the read-aloud was
The Door in the Wall
by Marguerite De Angeli. I found that the daily activities were just right. I can't count the number of times I have purchased materials and there were loads of activities to do that it was overwhelming. Not so with the Once-a-Week Unit Studies. Sharon's desire was to focus on the quality and not the quantity and I appreciate that immensely!
I really enjoyed the family devotional and to give you an example of how it correlates -- when we discussed castles, the topic was of Jesus being our "cornerstone". There was background information on that and a brief study on 1 Peter 2:4-7 and Psalm 71:3 about Jesus being our rock and refuge.
There are also so many other sources of information included such as videos (from the library or Netflix) to watch and websites to visit such as one that had a lego castle and town which my boys gravitated too and after printing out the pictures started to build (but of course we don't have enough legos -- do we ever?)
Some of the boys also enjoyed having a "library" of books on the subject at home and would read through them at leisure giving me tidbits of information as they went along.
And while I am saving the end until later on we certainly look forward to enjoying a Medieval Feast, which includes recipes and helpful ideas of how to make it authentic being creative with what you have.
My Thoughts
As soon as I read through the material I was excited. First of all, I didn't have to do any planning or thinking through what books to supplement with. I love the lists of books that Sharon compiled for the children to read in addition to the main read-aloud. All I needed to do was take the list to the library with me and she had the Dewey decimal number (give or take) right there for me. I did not find every book but then, you don't need every book on the list. Obviously I could have easily searched the library online catalog to find what I needed/wanted. There were two lists -- one for children who read on their own and one for non-readers and each book related well to the subject. There is a list for each week of the study, which keeps our "at home library" interesting.
I like that the study is not meant to control you but you control it. I also appreciate how instead of just being information, the family time helps to create a legacy. (Which starts me singing a song about leaving a legacy, but that's another subject).
This unit study brought me back to when we started out on this adventure of home educating and used Five In A Row. It reminded me of how much I enjoy this method of learning because it is fun and so this lead me to find another unit study which is a daily/yearly historical/biblical study and Once-a-Week Unit Studies will fit perfectly with it.
Details
The 4 week
Knights and Nobles
study covers Castles, Kings and Queens, Knights, and Life on a Manor. It concludes with a Royal Medieval Feast and the price is $15.95.
Once-a-Week Unit Studies
are also designed to be used for
Boy Scouts
as a way to be able to fulfill merit badge requirements.
American Heritage Girls
can earn badges and I also found that it can be incorporated for use in
4H
which is perfect for us as we can use it to complete a project record.
The studies are for grades 2 - 12. An upper level student would need additional lab sciences. They can also expand on the information by doing more research or writing assignments based on their ability.
I also think these studies would be of interest to many who are not educated at home. I can see it being used for family time in the evenings. I could even see a retired couple such as my parents enjoying going through a study like this.
Other topics offered are: birds, horses, trees, weather, Early Settlers, Native America, Lewis and Clark, American Revolution, the Constitution, Christmas Coming to America. The amount of weeks covered varies as does the price. You can view the great selection
HERE
.
Christmas is in the not too distant future and I am hoping to study about the origins of how it came to America while focusing on the real reason for the season. What a wonderful addition that would be to our celebration.
If you would like to read about the other unit studies reviewed by the Crew please click on the logo below.
**Disclaimer: As a member of TOS Review Crew, I received a complimentary copy of Knights and Nobles to review. All thoughts and opinions expressed in this post are my own.