When I first heard about
Family Time Fitness
I wasn't sure if it was something I wanted to review. After all, our children are outside all the time running around, riding bikes, playing football with daddy. They certainly seem to be fit.
A few years back we took part in a phy ed co-op class and the kids learned various skills and games. That was fun, but again, I figured we got enough activity at home and it wasn't worth the drive to get there.
But is running around really enough? And if not, what can I do about it?

What Is It and Why Do I Need It?
Family Time Fitness has three programs. One for schools, one for homeschools, and one to use for co-ops. I reviewed the Fitness 4 Homeschools Core 1 K-8th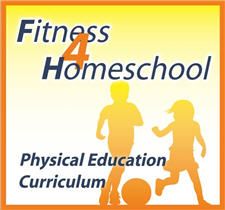 From the website -- "
Our program, designed by experts in fitness training, nutrition and body movement, is designed to suit every age and ability level while affordably fitting into your budget. Our program combines flexibility and fun with a comprehensive curriculum to give your children a foundation for strong bodies and minds. Best of all, you get all this for only $57 dollars for all your children!"
I learned that the difference between Physical Education and Physical Activity is the structure. Activity is good and maybe some of you also have Wii games that you use to keep your children active. The problem is that they do not "
comprehensively teach and manage physical fitness
".
In Core 1 you get 260 professionally planned lessons which come in pdf files with 20 lessons for each file. "
Lesson plans utilize repetition, but they are also progressive and sequential"
and they are for all age levels and abilities. Each lesson will be about 30-45 minutes of physical activity.
Each lesson contains:
Skills Taught
Equipment needed
Suggested Recovery Time
Warm-Up
Activity/Game Play
Cool Down
The following is an example of a portion of the first and the last lesson.
In the first lesson the skills taught are:
Mobility, Balance, Coordination, Rhythm, Flexibility, Strength, Agility, Jumping
One activity was -- Shuffle, Skip, Hop: Shuffle across the room and back 5 times. • Skip across the room and back 5 times. • Hop across the room on your right foot. Hop back on your left foot. Hop across the room and back 5 times. Complete the series 3 times.
In the last lesson the skills taught are:
Coordination, Mobility, Rhythm, Balance, Flexibility, Strength, Agility, Reacting, Throwing & Catching
Our Experience
I thought it would be fun for the kids to take on this project and take turns "teaching" a class. The information is organized in such a way that makes it simple to do. George taught the first lesson and simply read through the instructions, watched the video clips via the hyperlinks in the document if he wasn't sure of exactly how the exercise went. Instead of printing out the whole lesson he only needed the summary page that is included for reminders of what order to work in. Here they are doing a "rocking horse".
We began our morning with a physical fitness lesson. The first lesson simply taught activities such as how to hop on one foot from one end to the next and how to skip. But that got us working and I found out just how out of shape
I am
. Certainly I should be able to hop on one foot without working up a sweat right? Well, there were repetitions of the activities and by the end I was a bit worn out. We also did jump roping which showed me just how much we need structured lessons to get us doing activities like this.
The activities can be done indoors and then there is an added Outdoor Activity if you would like. We prefer to go outside as long as the weather cooperates. But when we need to be indoors we moved a table around to make more room for all of us.
We all thought it a fun activity to start our day and everyone was excited about taking a turn to "teach" a lesson. I think it will be a nice addition to our routine.
My Thoughts
I can certainly see the benefit of having children learn other skills that we don't always think to teach them. I thought the lesson plans were very well planned out and we had little to do to prepare. The equipment needed is typically something you would have around the house, unless you live at my house were anything left outside is eaten by the dog. But things we needed were various types of balls, bean bags, cones, hula hoops, jump ropes, etc. And this is something we can use again and again as we print out each lesson and place them in a binder.
It is a great way for us to all work together as a family to be physically fit and we have enjoyed it.
Tank says: "
I liked it because it was FUN! And I liked the frog squats."