Are you ready for a pregnancy update? I am kind of bummed that I didn't keep up with this journal because going from 18 weeks to 30 is quite a change.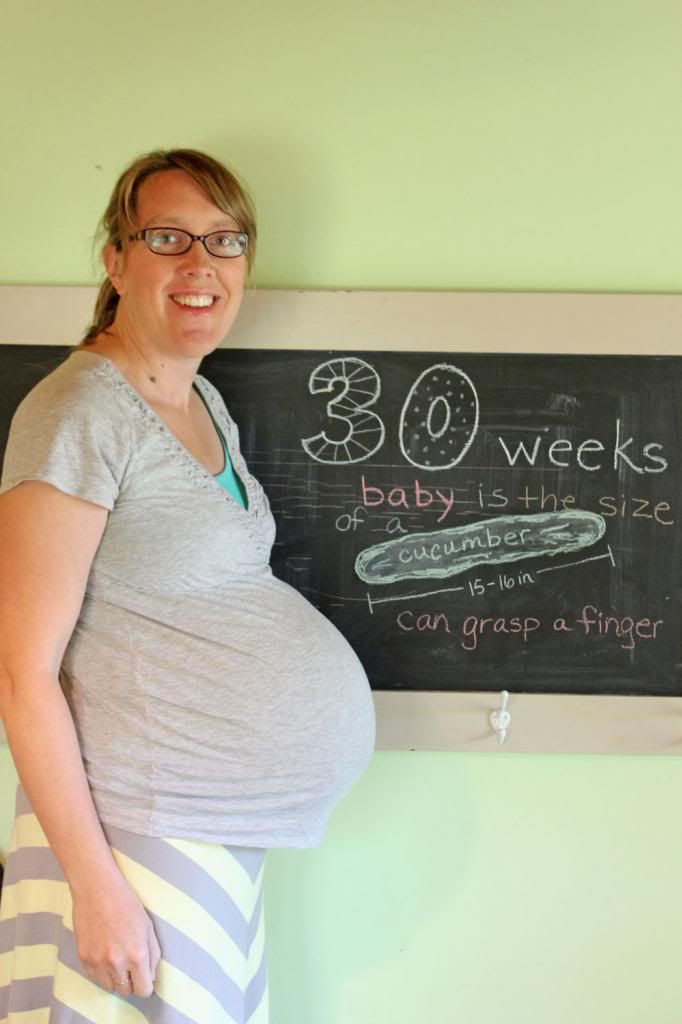 How far along?
30 weeks
Due Date:
December 3rd

Weight gain:
35 pounds which is typical for my pregnancies at this point.

Maternity clothes?
Definitely all maternity clothes. And even those shirts are getting too tight or too short to cover my belly. I don't find much to be comfortable anymore.

Symptoms:
Feeling as good as I can. The round ligament stretching has decreased. I have been using essential oils on that area and it seems to be helping. My heart had been racing every morning (110 bpm) usually after breakfast so that I have to sit on a stool to do anything. It lasts about an hour. But it seems to have subsided or at least isn't daily anymore so it was about 10 weeks of that. My feet and ankles are now starting to swell which means only my flip flops fit. I need to get to Goodwill and find some shoes to hold me over. I haven't had this problem since my first two pregnancies that I remember.

Movement: This little one is moving and that began just after 18 weeks. I was beginning to wonder when I would feel more movement and then she started going crazy. I always find this time fascinating to watch my belly move full of life and try and determine what part of baby is sticking out. The kids love it too. Well, George said he has seen this enough so isn't quite as thrilled this time around.

Food cravings: Not really. I always like beets but even more so when pregnant.

Food aversions: Nothing bothers me.

Have you started to show yet: Oh my and then some. Everyone thinks I must be due any day and in actuality it really does look that way.

Belly Button in or out? Out.

Wedding Rings On or Off? Off - I switched to my "pregnancy ring" awhile ago. It is actually three silver rings together each saying love in a different language. John bought it for me before we were married when he went on a vacation to the Virgin Islands with his parents. I actually do prefer silver to gold so enjoy wearing it.

Medical Information: My doctor took another job and thankfully a friend of mine informed me so I could make one last appointment before she left. Dr. Smith walked in for my appointment and I started crying and then so did she. I am so happy for her as she will be close to family (out in California!) and her job will no longer be on call so she is putting her family's needs first. But, I am so sad for myself. Admittedly, when I first had Dr. Smith with my last baby after my family doctor stopped doing prenatal, I wasn't so sure about a new doctor. But, she became like a friend you could talk to and always was so happy for me and enjoyed all of my kids too. When I asked Dr. Smith if she wanted to know if we were having a boy or girl she didn't know if she should say yes or wait to find out. But she couldn't wait and about jumped out of her chair with an excited yell when I told her. If only all doctors were as personable as Dr. Aubrey Smith. I'm already missing her!

Misc. Info: My c-section is scheduled for November 26th.