For the maybe two readers I have left on my blog here is a post! Very overdue I know but I realize that the more forgetful my mind becomes the more I really need this blog to remember. (I am backdating it to August so it is a little closer to reality)
We decided with this baby to find out what we are having. It has been different with each pregnancy and I do prefer the surprise in the end. But, we needed to figure out bedroom arrangements so did find out. It was very anticlimactic to be sure. I went in for the routine checking dates, make sure baby is growing as normal, etc. The ultrasound was a sleep-inducing hour with spa music in the background, dim lighting, very little communication unless I asked questions or said dumb things which I typically do if no one is talking. And then she told me we were done. But we hadn't found out if it was a boy or girl yet. She went back and checked and kind of murmured, "Oh, it's a ____". That's it? I need bells and whistles going off and a big booming announcement like when the doctor pulls the baby out. Oh well, I had a gender reveal party planned so that would be my excitement.
I first came across the idea of a gender reveal party on pinterest, where else? There are so many good ideas but apparently, not everyone has heard of this because I had some asking me what exactly that meant.
Here are pictures from that night...

Our Smores bar, which is kind of difficult to see and not as cute as I had envisioned but it worked. We had various kinds of marshmallows, chocolates, graham crackers/cookies/granola bars thins and some fruit.
Everyone marked on the chalkboard what gender they thought baby was. Many people commented that they figured it was a girl because we were having the party. But in truth, I had the party planned before we had our ultrasound. I should have taken a picture of the entire chalkboard. George had updated it to say -- Week 20 baby is the size of a banana which was mid-July.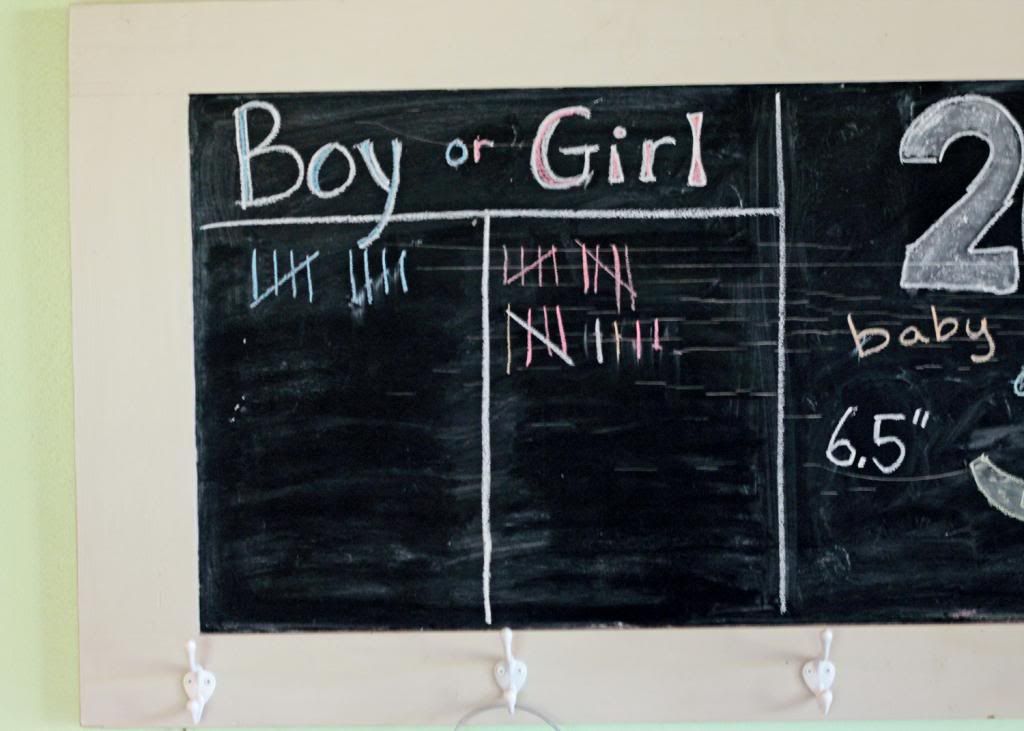 John cutting the cake to reveal baby's gender. You can see Pete in the background getting ready to spray silly string. I wish I would have taken a picture of that as the boys were spraying it all around the food.

I saw the idea of making a blue or pink cake but I prefer chocolate so instead colored the frosting between layers, which you can't tell, and put M&M's in the center that were supposed to spill out upon cutting. But, they got stuck on the frosting.
And....it's a
GIRL
!!! George and I had shopped for the candy center before we knew and it happened to be that the raspberry flavored M&M's were on sale so I bought two bags figuring I would get the blue and white mint ones at another store. But I never needed to do that! The filling was strawberry frosting and the topping was a cooked marshmallow frosting.
Baby's ultrasound picture. I love the profile as she looks just like my other babies and it amazes me that we can already see that. Her nose is slightly turned up just like her big sister's. We had a name suggestion basket and it was quite the interesting selection there. I don't know why but I struggle more with girl's names and actually had two boy's names ready to go.
We had a fun night celebrating our little one to come. If I were to do it again I would have had the baby's gender in an envelope and had my Mom make the cake so that we could have been surprised so I could have had the excitement too.
Oh, and we told our children and my parents earlier because I couldn't wait and bought cookies with "girl-colored" sprinkles on.