I am sure the same is true for most of you but computers were a new thing when I was in school. I remember the first learning game I played in 5th grade about the Oregon Trail. Then by middle school and high school it was mainly typing classes. When I went to college I took more computer classes and found out that might be something I was good at so then went to tech school specializing in computers. I laugh at that now because while I enjoy playing around I do not like the technical aspect of how they work. But that is a great skill to learn with the technology age we now live in. And that is something I wanted to see if my kids might excel in. I saw
Homeschool Programming Inc.
and thought this was a perfect opportunity for them to learn more about how computers work.
Homeschool Programming Inc. offers computer programming courses for kids and teens. They were written by homeschooling parents that work in the fields of Computer Science and Engineering. The courses are hands-on and written for the student in an engaging way. And as the parent you do not need to know computer programming to assist your child.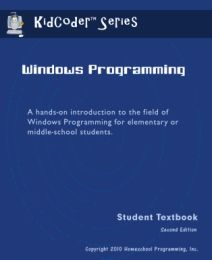 We used the textbook from an adobe file (although it would be easier using the printed book) but it was easy to follow with pictures showing what your screen should look like. George was excited to get started with this at first. He enjoys working on computers but reading through instructions and things like this are not his strong point. I found that I needed to be on hand quite often to make sure he was following the instructions which were quite detailed as the programming didn't always work out as it should. But as a parent if you read through you can easily find the solution. And there are also online helps for you as well.
There are two semesters in this course (that are purchased separately) and the first is learning the basic programming skills. The second semester begins with what George really wanted to get into which is programming your own game.
As with all curriculum I found this program may not be for all children and am thankful that I have some up and coming that it will interest more. If you think your child might have an interest in the computer science field have them
watch sample lessons
to see what it is all about. I admit I didn't do that and just told George this was something he might enjoy. Not the best idea. But if you have a hands-on-learner who always wants to know how things work and are more self-motivated then this course might be the perfect fit.
Homeschool Programming Inc. offers other programming courses for kids as well as teens. I personally thought the web design course sounded fun. If your child is an audio visual learner there are instructional videos available as well.