Have I told you before how much I enjoy art? :) Thankfully most of my children also enjoy it. Some more than others of course. And I have also come to appreciate lessons on DVD to assist me in teaching in the busyness of life.
See The Light
"brings an art teacher right into your home".

We reviewed a DVD from See The Light's Art Projects Series called "
Pointillism Fruit
". It is recommended for ages 10+ and while some younger children may attempt this project it really does work best for the the age it says. This project is inspired by one of my absolute favorite forms of art - impressionism and studied the life of Georges Seurat.
Our Experience
I did decide to have all of the children (ages 5 - 13) watch the DVD and attempt this art project. We watched the 20 minute lesson together as teacher Pat Knepley gave background information on Georges Seurat, explained about the type of project we were creating, and gave detailed instruction on how to paint making dots with a cotton swab.
There were 4 lessons and while it probably is best to go though one a week, some of my children were anxious to continue working on their project and wanted to keep watching. My non-artistic ones -- not so much.
Our project was to create a still life drawing in very light pencil and then paint over it using cotton swabs in an up and down motion to create a small dot of color. It was fun to see how the painting would change with each lesson. At first the children thought it didn't look that good being that it was only one color on the fruit. But, each time more color was added and finally shading, until the fruit had more of a realistic look to it. Of course as with this type of painting, up close it doesn't look very nice at all, which in a way makes it a bit more difficult to see how you are doing. And admittedly some of the kids got quite discouraged, especially with the shading, until I held their painting back from a distance for them and they realized that indeed it looked like fruit.
We did have most of the supplies we needed on hand but I did buy some new acrylic paints in the suggested bright colors. We used poster board cut in half for our canvas.
This project should not be rushed even though they may want to work ahead. It is best to take time with the drawing and then make nice even dots of paint. And take time to study the fruit and decide what colors to add. Just because the instructor has one color fruit doesn't mean yours has to look the same. I do think it might be best to have artificial fruit as was done on the DVD unless yours doesn't go bad over a 4 week time period. We had to change out bananas and nectarines as either they would get eaten or they'd have brown spots. It worked okay though.
First lesson was sketching the fruit and painting them one solid color.
I sketched the fruit for Seppy but he enjoyed the painting with assistance from all.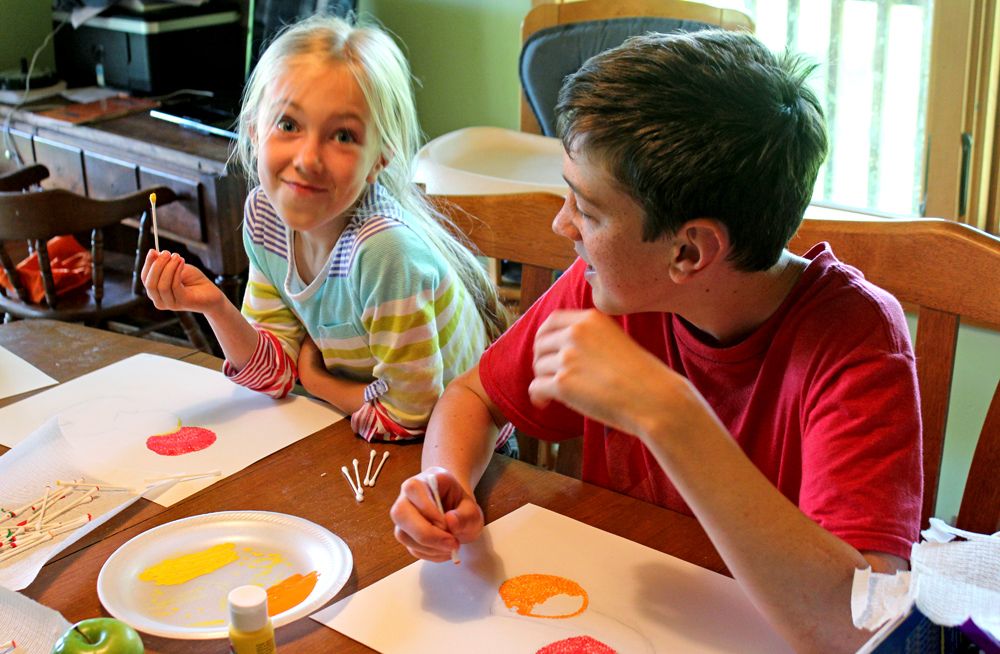 Can you tell who enjoyed this project?
What I Liked
I loved that Pat incorporated God's Word into each lesson. After all, God is the master artist and so she would always pull open her bible at one point in the lesson and read a passage of scripture that correlated with what she had said.
I always enjoy the background information on the artist and it was presented in an interesting way, not dry or boring at all (except maybe for the younger set but remember it isn't for them!) Did you know that Seurat's paintings were done on 7 foot walls? The kids found that fascinating. Perhaps we should cover our wall in a pointillism painting to cover all the other markings from over the years!
The art lessons were just the right length and then there was time to work. And in the end they came away with a nice piece of art that can be framed and some of the boys are talking about entering them in the fair.
Third lesson. See how far Seppy has come? Not bad for a 5 year old!
I like Missy's nectarine. She did a good job adding the yellow and orange to it.
Final lesson -- George is adding the shading and some highlights.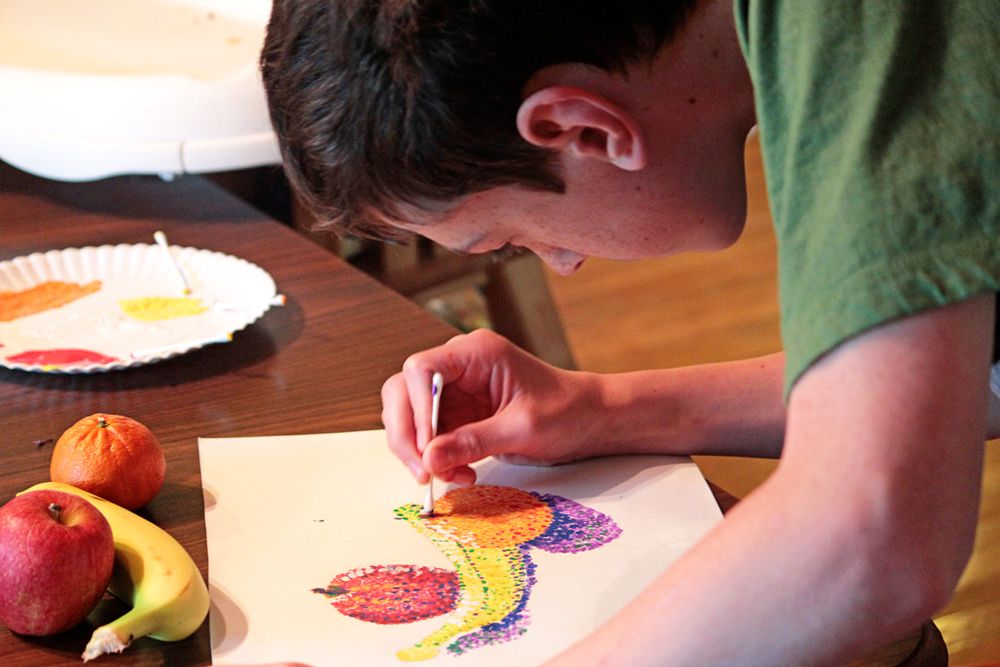 Completed project with a hint of a table line in the background. Pete and Re-Pete were especially pleased with the paintings after they saw how they looked on the picture.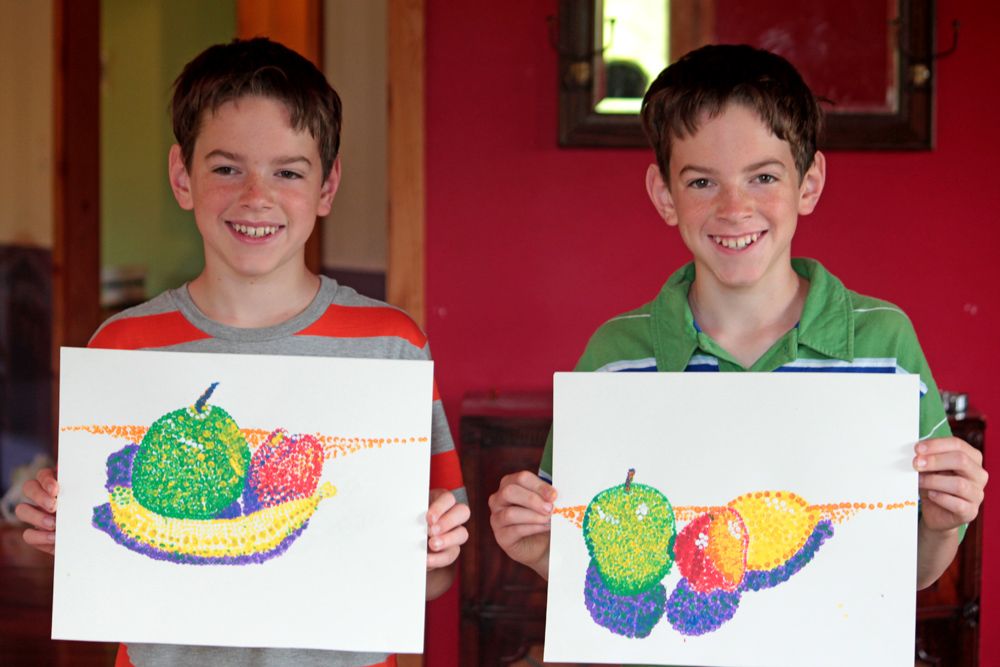 Thanks Pat! We had fun and look forward to more art lessons with your instruction!
Purchase for Yourself
You can purchase
Pointillism Fruit, the 4th DVD in the Art Projects series for $14.99
There are so many other great products from See the Light. Click here to read more reviews.