I always have the best intentions but life does not allow me to do "what I want" and for the most part, I am good with that. I started this post when Grace really was 4 months. For awhile I was hung up about not getting an "official" 4 month picture taken but I gave up on that and then I simply got behind.
Here are a few highlights now for my sake. Nothing very
I try to put Grace on her belly to play more often but she isn't thrilled with that idea. Here Pete and Missy try to convince her that it is fun.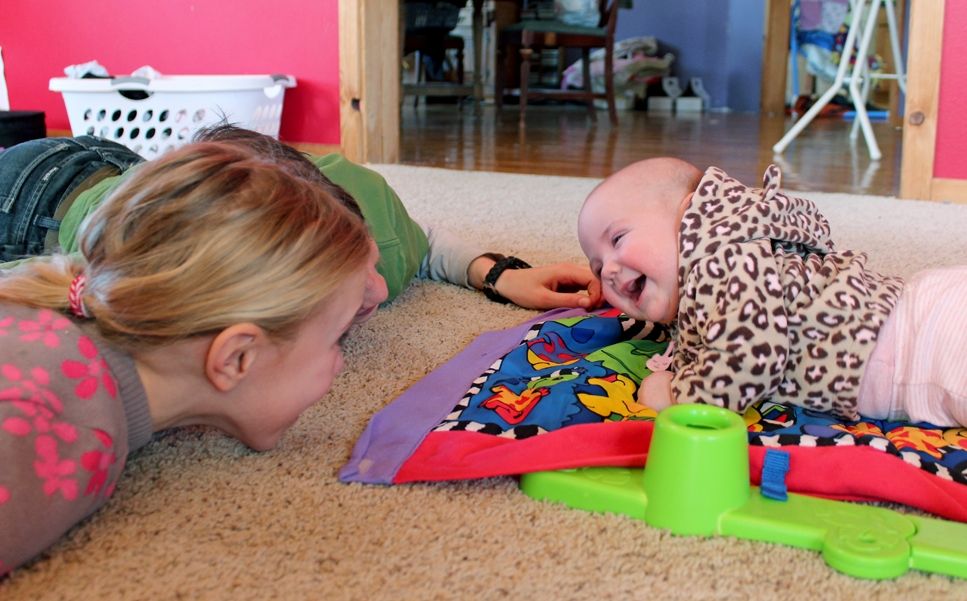 Grace is sleeping 7 hours at night and occasionally takes better naps during the day, as long as she is at home in her own bed. Forget it otherwise. It takes a lot of effort to get her to sleep. Here is Daddy beginning the process.
I really was hoping she would find her thumb to suck on since those have been my most content babies. She found it once or twice but she didn't keep that up.
Grace does not want to lean back but is always trying to lean forward and can sit for a few moments before loosing her balance. She is jabbering a bit more but we are still waiting for that laugh. Right now she just gives us a wide open mouth silent grin.
Grace startles very easily for instance when we change her diaper opening the crinkly package for the wet wipes makes her jump. And when I took her to ladies retreat with me and my sister would cough Grace would flail her arms and be startled each time.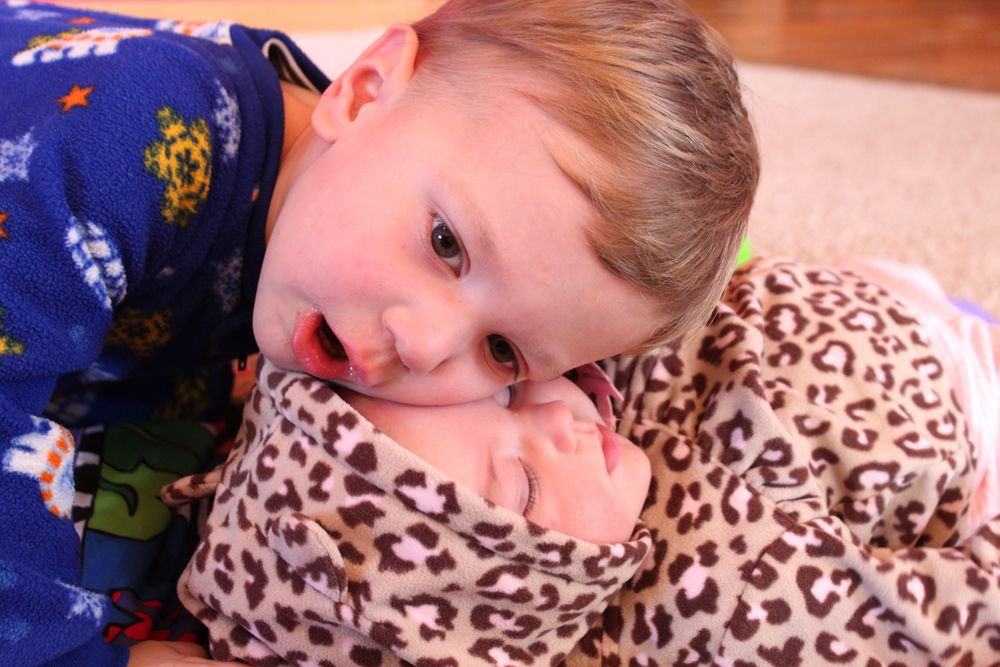 This is Zippy's favorite thing to do -- "I want to hug her head!" Which means putting his cheek to Grace's head. He does this countless times in a day.
For anyone who cares about what diapers work best, we have found that Huggies are not worth it and the same thing with LUVS (although they were a bit better). I have had quite a bit of washing out clothes due in part to major leaking. Target brand is by far the best diaper we've ever used.
Our little girl is getting more filled out each week it seems. The boys weighed her in at 16 lbs. I look back at her one month pictures when she had that newborn loose skin and that clueless look in her eyes and I can't believe how fast the days are flying. I want to relish every single moment but it is so hard when she is not my only responsibility. I am so thankful for the ability to capture moments in time to help bring back memories when they fade with time.