My last review of the year! I have probably mentioned this before but I love music and singing and am hoping that is passed onto our children. Most of them do sing but not many of them are able to stay in tune with the music and cannot seem to keep the right pitch. I have hoped to find a program to help them learn. And so I wanted to review
Teaching Kids To Sing
with Chris & Carole Beatty.
Chris and Caroly Beatty are the creators of
Vocal Coach
which is a leading publisher of vocal training products for all ages
and have been training singers for over 4 decades. Through their millions of products, as well as workshops for all ages, they have been instrumental in coaching and preserving the voice of thousands of singers ranging from beginners to Grammy Award and Dove award winning professionals.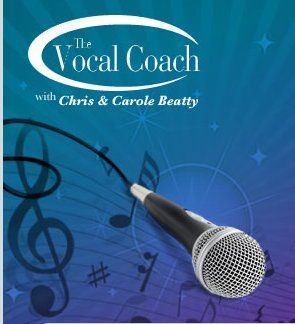 Teaching Kids To Sing
is targeted for ages 5 - 6th grade and is
a systematic, interactive and fun tool for teaching the young singers in your life about their voices using either our DVD or CDs. The Teaching Kids To Sing series presents principles and exercises in a way that can be easily understood and implemented by children.
Teaching Kids To Sing
during part of our day and you can find ideas to help you implement this in a
homeschool setting
on the Vocal Coach website. We ended up going through two lessons at a time as they were not very long. The first DVD -- Volume 1 is
Building Foundations That Last
and goes through:
Posture
Breathing
Tone
Warm-Ups
The children learn the elements along with helpful hints for example to remember good posture you pretend to pull yourself up at the back of your neck with a string. Then Chris along with the Vocal Coach Kids Choir introduce a song to help reinforce what was just learned. One of our favorite songs was the Breathing Rap which goes like this (think with a rap beat to it)...


I breath without moving my ribs and chest.
I breath this way because it's best.
When I breath in I expand my middle,
When I breathe out my tummy gets little.
I breath this way, it feels just fine.
It's all by God's design.
Volume 2 -- Essential Skills For Growing Voices contains:
Rhythm
Diction
Dynamics
Vocal Health (did you know that clearing your throat is not good for your vocal chords?)
and you also go through Warm-ups again and some reminders from Volume 1.
The CD contains Accompaniment Tracks to all of the songs and warm-ups that were presented both with the vocals and just the accompaniment. You can play it anywhere for more practice.
My Thoughts
I really liked how the elements of singing are taught and presented in a very easy to learn manner that each of my children "got it". Initially they were a little turned off by how "old" the video seemed in how the kids were dressed, the setting, and just how the video was made. It was produced in 1999 (when George was born) and it is amazing to again be reminded of how far technology has come in just 13 years. But after discussing that aspect we got back into learning what was important. And they were able to have fun doing the various warm-ups that I remember doing in choir class, hah hah hah and ho ho ho, up and down the musical scales and so on. Even Zippy had fun dancing along to the beat of the music. He may be my musical boy as he can keep the beat quite well already.

I did find that after going through these lessons with the kids following the lead of other children that they are better able to match the pitch and go up and down the scale. They also learned better posture which hopefully will help them in children's choir at church. And as I learned the Beatty's say,"Practice makes permanent no matter how you're practicing, so let's do it right." So, just because you practice doesn't mean it will get perfect so it is helpful to learn how to do it the correct way.
This would be great for a children's choir to go through or just to help your children at home learn how to sing. What a great music class!

**Disclaimer -- I received a complimentary copy of Teaching Your Kids To Sing DVD/CD set in exchange for my honest opinion.