I grew up going to Holland Fest in a nearby town and looked forward to it each summer. It is a wonderful family festival celebrating the Dutch heritage (I'm 1/4 Dutch) and it was always kind of a family get-together as my Grandparents and Aunts and Uncles come also, sitting in the traditional spot -- at the Windmill.
Each year I would watch the Klompen dancers and it looked liked so much fun. Later on I thought if I ever had a daughter I would have her dress in costume and join in the dance. This year I finally decided to do it, although it was too late to be a dancer but anyone is able to dress up and scrub the streets to prepare them for the dancing. A lady in our church has had her children involved in Klompen dancing for a long time and so she was kind enough to help me out in getting some costumes and rented wooden shoes for us. My Mom made a beautiful little dress for Missy. I was delighted that three of my boys also wanted to join in the fun.
The Town Crier walked the street announcing it had been declared too dirty for Klompen. And so the boys and men poured the water and the girls swept one street at the opening of the festivities which was followed by the Klompen Dancers and then the kids joined in the Wooden Shoe races. George found out that running in wooden shoes without a lot of padding really hurts the feet! Ouch! As if they didn't hurt just from walking in.
The next day was the parade and the "real deal" so the streets again needed to be prepared all the way down the parade route and then the Burgermeister and Town Crier come down the streets again and declare them clean. This time we all wore more socks and my feet felt better. George now had blisters so he smiled in spite of the pain and kept right on hauling buckets of water. I was very proud of him for giving it his best!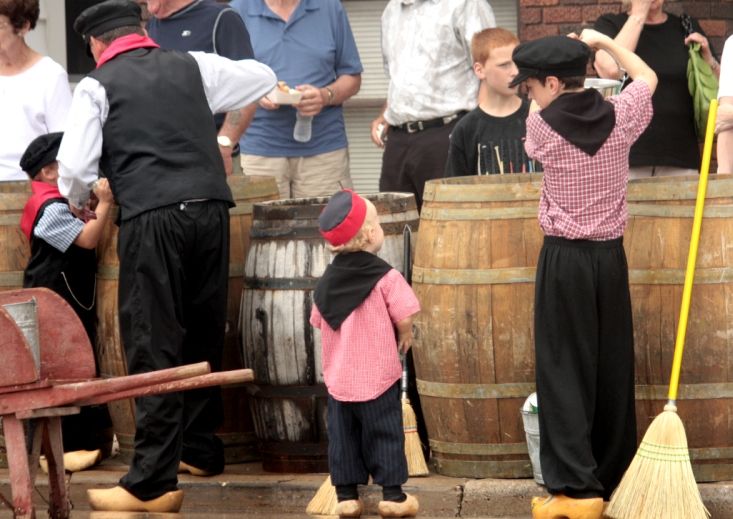 Helping his brother get a pail of water
We are hoping that next year Pete and Re-Pete will join us as they saw how much fun we had. My sister and my nephew might join us also so my Mom is thinking she may start now on making costumes! :) I'm so thankful for a Mom who can sew so beautifully and quickly!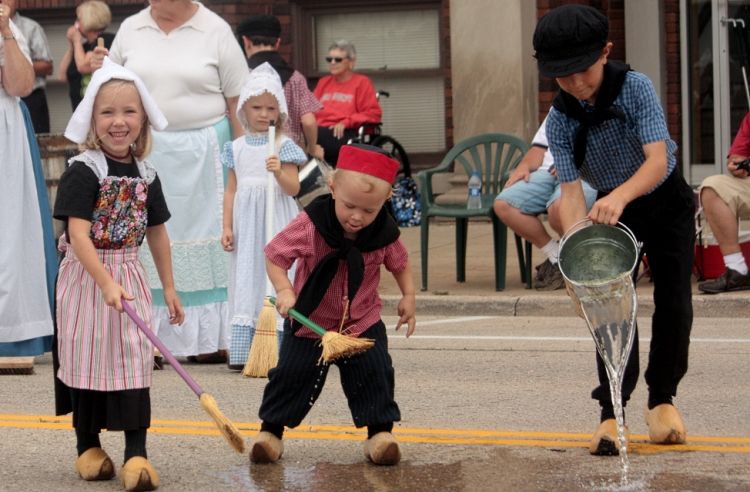 Washing the streets